39 comments Add a comment
I bought a ranch style home for myself and my two daughters nearly six years ago. Unfortunately, two of the bedrooms face the front of the home and the neighbourhood Post Office is seem to think that it's okay to drop past the windows with the mail instead of using the sidewalk. I have asked the Postal Carrier(s) nicely to refrain from walking on the lawn in the front of our home and to use the sidewalk instead, but so far my words appear to have fallen on deaf ears.
As if I need to explain this simple request, I had a spinal fusion surgery and was laid up in bed for months in one of the rooms at the front of the house. My ignorant Postal Carrier walks right in front of my bedroom window each day because he is presumably too lazy to take any other route! I explained to him when I was a child, I was taught there was a public side and a private side of a sidewalk. I learned what "private property" meant. For some reason or other the people working in my local Post Office have no clue what this means!
I have personally asked the postal carriers to stay off my lawn for the simple fact they are making a path and ruining the lawn, let alone depriving me of the privacy that I am entitled to in my home! After numerous calls to the Post Office and notes on my mailbox or around my property, do you think anyone over at the Post Office actually understands? No, it would appear they do not!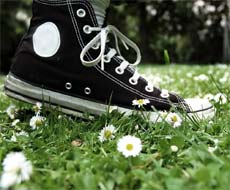 After yet another phone call today, I am told "This is the first I have heard about it... and sometimes the carrier needs to take shortcuts to be able to deliver all the mail in one day..."
Excuses and more excuses, they can't even understand why I am upset by this! This has been going on for six years. I do have multiple sclerosis! and I am being as calm as I can be. I even went so far as to send my mail somewhere else because the situation is so ridiculous!
Does anyone have a solution to this? How can I get it through to them that that taking a shortcut through my property is depriving me of my privacy?!
By: Bluesformail
Leave a comment