13 comments Add a comment
I am absolutely furious with British Gas regarding their attitude to elderly people who are having new heating systems fitted via government initiative! In the past seven months I have had my octogenarian in-laws up roots to come over and stay with us FOUR times! First three times when my poor father-in-law went over to his house in morning it was to find workmen and no radiators or boiler for them to put in. Someone had "forgotten", ON THREE OCCASIONS, to put the order through so the goods would be there for the workmen to do what should have been a same day job. This time around we thought hallelujah! But no, yet more problems delayed the work.
Father-in-law: This stress is making him ill.
I have actually lost track of excuses etc. being given now. The job was meant to be done last Thursday, so again over they came to stay with us to find that no workmen turned up on Thursday as expected as the contractor had not been informed! By now thoroughly fed up, my father-in-law fired off an e-mail to the chap in the Scottish executive with regards to situation who was horrified and lo and behold the job, that could not be done before Monday this week at least, was suddenly done on the Friday - only one day late. Yippee we all thought, but alas it wasn't that easy
Two of the radiators were way too tall for the space in the front rooms they were meant for and had to be re-ordered. The valve that needed fitting to his fire once the old back boiler was removed had not been ordered either! He was told that radiators would not arrive until this Friday and valve apparently would have to be dealt with by a private contractor as the fire is an existing feature!!
Hello they are removing the back boiler and cutting the gas off to his fire as it could not be isolated, so shouldn't they fit the valve once old boiler is out to give this elderly couple their fire back?
Now the reason I am so angry with all this is not because I have had them here to stay. They are a lovely couple whom I love to bits. No, the reason I am angry is because of the stress it has placed squarely on the shoulders of my father-in-law. My mother-in-law has Alzheimers and can barely lift her feet, but over here she has no option but climb stairs to bedroom. She has a carer morning and night over the road to get her up washed and dressed etc. But due to these issues with British Gas, has only had carer at night, so that my father-in-law has had to deal with morning routine which puts a tremendous strain on him on top of everything else.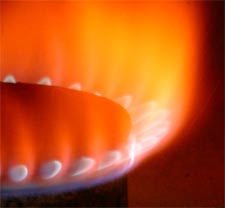 I haven't mentioned yet that he has severe angina and has had a serious heart attack in past. This stress is making him ill. I can see it, but due to my own arthritis he will not hear of me dealing with my mother-in-law for him! He insists Im doing enough by cooking and caring for them during their stay with us. He's not a man to argue with on that score!
He is, as I write this, on his way over to the house again to let the workmen in. Hopefully they will finally fit the two radiators leave their house habitable once more as I think any more strain could have him in hospital, which incidentally is where his OLDER sister is due to the stress heaped on her with the same carry-on in another town regarding the putting in of the new heating systems!
We have since heard from his neighbours who are in their seventies that they too had to put up with many cancelled jobs whilst having their heating systems upgraded before work finally started, only to find wrong sizes ordered which took weeks in their case to be sorted out!
Is this some kind of underhanded ploy to rid our country of the burden of elderly people? If this is the way elderly people are generally treated, then British Gas should be ashamed of themselves.
By: Nona
Leave a comment