27 comments Add a comment
Something that is starting to annoy me about business today is the lack of regard these so called employers have for their employees.
I will start with the common one, you can work like canal horse all day long and not once will a manager come over to you and say 'You now deserve a pay raise well done.." Nope, you have to approach the matter with facts and figures and Christ knows how many other hoops they need you to jump through when you go for that 'performance and salary 'review meeting'.
Which brings me on to the next thing, these annual performance reviews. Oh lets 'tick boxes' to say how well you preformed these past few months. Bad reviews are pointless, but they always seem to focus on the bad parts of what you have done, or not done... If you have done every single little thing that's expected of you then apparently you haven't done well enough. You need to give it 110%, you need to adapt to new ways of thinking, and you need to tick all the right boxes. In fact you just need to sit there and shut up whilst listening to all this BS.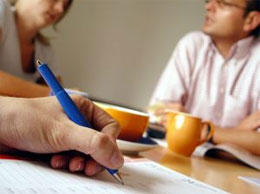 These companies are so quick to go go with you on the good times and dance around with you when you make them tons of money! But when you have a downer, and you feel like you're banging your head at a brick wall, call after call and no one is buying, or you no one wants to buy your services... that's when your employers turn on you. And it's not the market you're in, it's not the fact the world is royally screwed for money at the moment, it's not the fact that people do have peaks and troughs in their career or just generally all year round... Nope. It's YOU apparently. You're not trying hard enough and you're not putting in the hours. You're not giving it 110% and you're not doing blue sky thinking, building strategies and business plans, and all the other tripe you get asked to do. It's ALL YOUR FAULT!
This is precisely why companies are failing now in a recession; they are not looking after their own. People will have good and bad days. Nobody will ever be 110% and no one gives a crap about business plans and blue sky thinking and prizes if you hit your targets, or dare I say it 'exceed' your targets. Targets are another issue. What the hell is a target anyway? If you're constantly setting KPIs and targets for people and they are constantly failing then maybe, just maybe it's not the people? Maybe it's your stupid unrealistic targets!?
When they're done with you, they then screw you over on holiday pay, or pay in lieu, or commission or they send you a nice little threat letter saying 'If you steal our business we will take you to court'. Lovely, so not only do companies want to squeeze your life, cause family feuds and make you generally seriously depressed. You leave and then you can't do you next job effectively because of the same problem. Brilliant. Oh and whilst they're using you, they're also screwing their customers... Welcome to 21st century business.
By: Derek
Leave a comment