35 comments Add a comment
I go to work each day and spend most of my time in a very ordinary looking open plan office doing a fairly typical office job sat at a desk with a computer. Then one day a large important looking man came into our office and said he was going to carry out work place assessments to ensure that we comply with health and safety regulations.
He came over to my desk and asked if he could "observe my working practices for the next few minutes". After a short time he told me that I wasn't sitting properly, my phone was not properly positioned and my monitor was at the wrong angle.
He then showed me how to sit at my desk properly (having used a chair for the last 28 or so years of my life I thought I had it covered), how to hold my mouse correctly and the correct position for my screen. I know this is done to avoid RSI etc. and after a quick chat and a bit of a telling off I had to sign a form to say that I had read the guidelines on "using my workspace". He then set off to assess the next member of staff.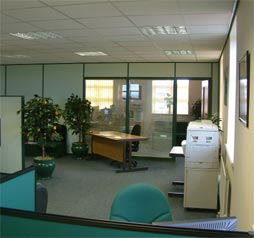 Then the very next day he came back in and we all have to learn how to lift a cardboard box in the correct fashion. Of course all this was to make sure we comply with those health and safety regulations. Personally I thought it was all a bit silly.
However it turns out my chair actually isn't any good for me and a new one has been ordered at a cost of around 500! I have to say it is much more comfy than the old one, but its come out of our budget and my manager is fuming with me now!
I think that money was earmarked for the Christmas party or something, so now Im the least favourite person in my team and all because some bloke said I slouched a bit!
So don't worry about the leaky pipe in the gents, or that gas like smell coming form the basement storage on the first floor or the crazy employee that insists on driving into the company car park at 100mph, hand braking to a stop inches from the car next to him. Don't worry about the bloke who regularly has a quick out by the fire exit or indeed the dubious looking cleaner that you are sure is nicking stuff from your desk.
Oh no, you want to make sure you sit at your desk in the correct manner!
By: Billy no wages
Leave a comment