12 comments Add a comment
Like many people these days I do a fair bit of shopping online and for the most part, I'm pretty confident that when I've submitted my order I'll receive my goods within a few days, or if it's a busy time of year then perhaps a week or two. However, you don't generally expect to have to wait from three weeks to a month, or even longer.
I recently ordered a DVD player online from eBuyer.com (which I can definitely recommend by the way), but forgot to also purchase the 8MB USB stick which I had originally intended to buy with the player. Unfortunately I couldn't amend my order at the time, there was a good reason as sometimes it is possible to do that. Anyway, decided I'd just find somewhere else cheap that had free shipping because basically I couldn't stand the idea of paying for shipping twice, even though it was only another few quid. Well that will teach me, because I still haven't received the memory stick and I have been watching movies on the DVD player that eBuyer sent me for the best part of a month now. If I'd just ordered with them I'd no doubt have got the USB stick a few days later along with the player. I was very patient to begin with. I waited two weeks before even attempting to make contact and then sent them an email.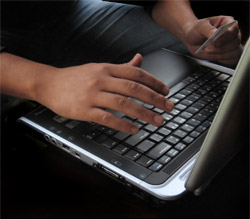 This particular online retailer's website looked the part and had all the right information. There's even a host of different contact email addresses (one phone number) and plenty of information on deliveries, payments and orders. It's the sort of thing you'd expect and I didn't feel uncomfortable placing an order with this company, but they're proving to be very slow at communicating as well as slow at delivering. It's been about a week since I emailed them, correct email address used and order number included in the subject line as suggested by the website. Looking at my account the order still says "Awaiting Dispatch. Will be Dispatched within 2 days." It's been saying that for a very long time though.
I have also called the number on the website and as expected, it was a voicemail service whereby you leave a message and someone will be in touch within 48 hours. Perhaps this is a one off and I'll receive my £10 item sometime next week, there again maybe I won't. Either way I will not be giving this particular company any more of my business. I know it's a relatively small value item and the shipping was free, but does that mean my custom is less valuable?
I've had one or two bad experiences shopping online in the past particularly around Christmas time. Once I actually received an incomplete order with a credit note inside telling me that one of the items was out of stock and that my payment would be refunded (well that's something at least!), but my point is there was no prior communication either at the time of purchase or when my order was being processed. As you can imagine when you're waiting for gifts to arrive and some of them just aren't there, you've then got to start shopping again - something that's quite irritating if really don't like shopping in the first place. It's actually why I prefer to shop online... to avoid the hustle and bustle of the high street.
Online retailers need to their customers a bit more seriously. There's plenty of competition out there and we'll take our money somewhere else if we don't get satisfaction and a prompt delivery.
Leave a comment