20 comments Add a comment
"Oh here it is, Merry Christmas everybody's having fun" sang Slade's Noddy Holder. He should be sued for that in my opinion. Am I having fun? I don't flipping think so! This whole annual saga, which I'd much prefer to call winter seasonal extortion, is now called 'Happy Holidays' by some politically correct souls with a very odd sense of humour. This only takes the essential religious shine off what is otherwise a seasonal of absolute hell.
In fact, it's been Christmas since October in most of the retail outlets. From the first dropping of Autumn leaves, I enter a shop and the shelves, which normally contain my usual staple items, have been moved to god knows where (usually under the counter where I can't find them) and instead they're stacked with overpackaged, overpriced, fancy Christmas food items. That means miniscule portions of food or chocolates wrapped in enormous fancy packaged boxes, with Santa on the front, and a bigger price tag than the national debt. No wonder I need to remortgage the house to pay the gas bill and have to live on baked beans all of January! That jingling has nothing to do with bells and more to do with my hard earned cash filling up the tills.
Then there's Christmas pressie buying. Boring! Traipsing around the high street stores in sludgy snow, barging into frustrated shoppers all with sore feet on that annual quest for that perfect present for aunt Mildred, who I would never give the time of day for if it wasn't for the festive season. Boring cow!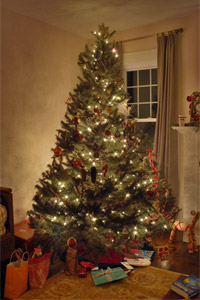 Once you've spent a fortune on a bunch of undeserving individuals there's the pressie wrapping. Yards of sticky tape stuck to the new leather sofa, leaving residues of glue that won't come out; lost scissors that always open out and cut a hole in a favourite cushion, and awkward shaped presents that take a whole roll of wrapping paper to conceal making the present cost twice as much - and it still pokes through the tissue like wrapping paper. There's only one thing for it: a pint of Sherry to dull the pain, otherwise I'd end up in the loony bin singing Rudolph The Red Nose Reindeer with Nurse Ratchet.
up at dawn to put the turkey in the oven...
Finally, there's Christmas day food to prepare. That means hours of sweated toil in the kitchen, slave labour not seen since 19th century workhouses were abolished, making bread sauce, Christmas pudding, perfect roast spuds, getting up at dawn to put the turkey in the oven, sprouts that everyone loathes, greasy gravy followed by heavy Christmas pudding and brandy butter specifically formulated to ensure that my jeans won't fit me for at least two months into the New Year. Not unless I bop along to that daft celebrity fitness DVD that aunt Mildred bought me for Christmas. Where's that hangman's rope when I need it!
After Christmas, along with the rest of the UK population, I'll have no energy left to do anything except spend all day on eBay flogging unwanted, rubbish presents. Besides, I can't move or go anywhere because my bum is now the size of Table Mountain and won't shrink to its normal size until March, at the earliest.
I just wish, amid all of this misery couched by phoney forced jolliness, I could auction aunt Mildred. Now that would put a smile on my face and make for a genuinely Happy New Year and make those endless dry, turkey sandwiches seem worthwhile after all.
Hope you all have the same.. A happy Christmas and New Year, that is.
By: Grumpy xx
Leave a comment