50 comments Add a comment
What do I hate? That feeling when you can't get comfortable, your face and neck hurts, you feel like somethings not quite right, you don't seem to be doing things in the right way. Grrrrr...
And to add to the crappy feeling, you have the people having a go at you for not being yourself and being in a mood. If I want to be in a mood, then I flaming well will be! And then there are the people who shout at you for being in a mood and make you feel like something's wrong. WHY?
If I'm already in a mood, then why add to my pain and make me feel worse? Am I supposed to change my mood into a better one just to make you happy? Shall I also grate some cheese for you and sweep up after you? Shall I flush the ruddy toilet for you?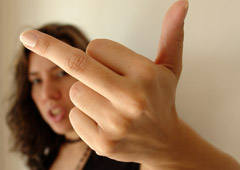 Going back to that annoying feeling, it's also made worse when you have something on your wrist, made of fabric that's wet. DISGUSTING. Why won't it dry?
Another thing that really gets on my goat is when people tell me to cheer and say it might never happen. Exactly what might never happen? People have all sorts of reasons for the various expressions on their face, there's no need to question it when a negative comment. Actually 9 times out of 10 I'm actually fine, it's just when I don't have an expression on my face I don't look very happy. Well I can't help that! I just wish people would just mind their own business when they don't know what's going on in my life. Maybe one day I'll just pour my heart out and tell them all the things I'm unhappy about in my life - that'll teach them for asking!
These are just a few things that are annoying me at the moment. Feel free to comment and add more to the list if you want to.
Leave a comment