66 comments Add a comment
Travelling by bus has its ups and downs. I like the fact that I'm doing my bit for the environment and it can work out cheaper than owning a car. On the downside, you have to put up with drunken yobs and the 'feet on seat' brigade - you know the ones, mindless young people, leaning against the window with their dirty feet planted on the adjacent seat... annoying mobile phones and litter etc. I'm sure you get the picture.
clinging on to the pole as the bus lurches around
Now, a new annoyance has emerged. Reckless bus drivers who take your money and then race off, leaving you to stagger up the aisle with your bags, clinging on to the pole as the bus lurches around, with the last remaining seat at the back of the bus firmly in your sights, like the holy grail of bus furniture.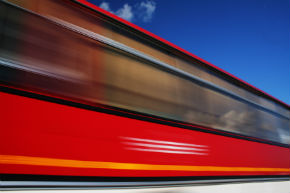 It makes me laugh though, that there are polite, 'caring' little notices, entreating me, when alighting from the vehicle, to remain in my seat until the bus has stopped, thereby ensuring my safety and convenience. What about actually getting ON the bus though, when you have no control over when the driver 'moves off'. Also, bear in mind the fact that you are travelling backwards and can't see if the driver is going to have to stop in a hurry?
The couple of seconds the driver saves by not waiting could easily be cancelled out at the next set of lights anyway. So please, bus companies, insist that your drivers follow the procedure of waiting until people actually get a chance to SIT DOWN. It could cost you a lot in compensation if someone falls over and gets hurt because your drivers are too impatient to wait a few moments. Thanks.
By: Reluctant bus user
Leave a comment