95 comments Add a comment
Bus service in Milton Keynes, what flaming bus service? It's in a right mess and if you are thinking of leaving the car at home and taking the bus I'd advise you to think again!
I've been working in Milton Keynes for over a year now and I usually commute to work on my motorcycle. This has all worked out quite well even though it is more than 20 miles of single carriageway and the traffic is sometimes less than fluid. One day however, this young lady wasn't watching where she was going and parked her four wheeled contraption directly in the path of my bike causing me to have a major bum twitch before striking the side of her car.

Okay, this isn't quite as bad as it sounds as I had a lucky escape and was able to borrow a bike from a friend whilst the insurance companies dragged their heels and finally sorted out some money for me. The problem is that there is the odd day when I need to come to work by public transport, for example when the roads are too icy or if my bike is being serviced etc.
Getting to Milton Keynes from Bicester is bad enough as there are only two suitable buses in the morning; one these is at 7.15 and the other at 8.25. The 7.15 bus gets me to the rail and bus station for 8 O'Clock and the other one gets me there at ten past nine. This would be great if I worked at the rail station, unfortunately I don't, because I work on the other side of town up at Kents Hill.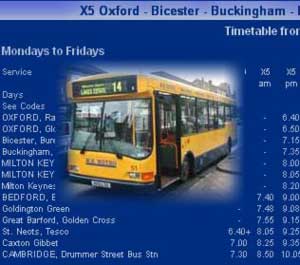 there are very few buses actually...
As most of the taxis charge around £8.00 each way I figured that its probably a good idea to check out the local bus service. That was when I realised how bad things were in Milton Keynes. I discovered that firstly there are very few buses actually go out to Kents Hill, and secondly the ones that DO are very infrequent with only one every 30 minutes at rush hour if you're lucky. Whilst looking at the timetable I noticed that some of the buses, particularly on a Sunday only run as every two hours Not exactly a flexible user friendly bus service!
Wasn't the big idea was to encourage people to ditch their cars and use public transport? Well they're not doing very well here in Milton Keynes are they?
Leave a comment