11 comments Add a comment
A disabled parking space outside the front of a large Tesco supermarket. Everyone knows exactly who is supposed to be allowed to park there and who should not park there. So why do some people who clearly aren't disabled decide to use these parking spaces? Do they think that this silly rule shouldn't really apply to them or something?
The car in the photo parked up in a disabled bay at a branch of Tesco near Eskbank in Midlothian. The female driver who got out of the car was smartly dressed and didn't appear to have any problems getting to the store as she jumped out of her nice car and strutted off to the store entrance. In fact she appeared to be as fit as a fiddle and the car didn't appear to have one of those blue disabled badges that cars are supposed to have on display when using disabled parking spaces.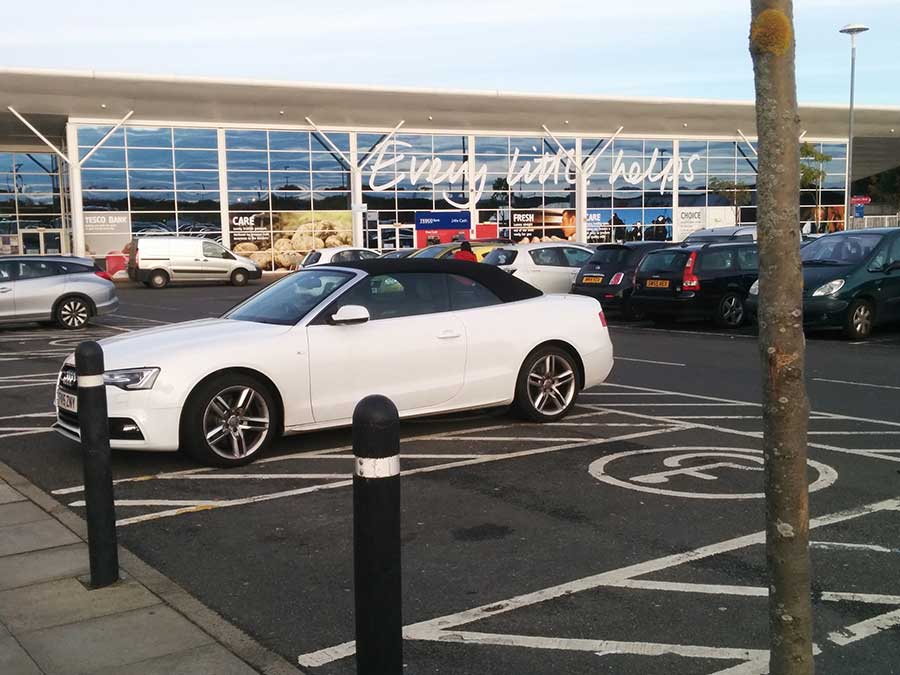 This is typical of the kind of selfish behaviour that seems to be becoming acceptable these days. More and more people put themselves first and disregard the needs of others. For example the drivers who see a queue of traffic and carry on up the outside lane so that they can push in at the front. Me first! I'm more important than you.
No doubt this woman couldn't be bothered to park further away. Too lazy to look around for an alternative when those big spaces at the front of the store were up for grabs. In this case there were plenty of spaces for disabled drivers, but what would she have done if there was only one left? I'd be willing to bet she would have just parked there anyway.
Leave a comment