42 comments Add a comment
Why do some drivers insist on parking so close to the driver's side of my car? I'm always careful to get exactly in the middle of the white lines in a parking space, yet there's invariably some idiot who thinks I only need to open my door 6 inches in order to get in and out of my car, and will proceed to get as close to the left-hand line of their bay as possible. Talk about selfish parking. Is it so difficult to park in the middle of the bay and not right up next to another car?
Normally this sort of thing wouldn't bother me too much, after all it's their paintwork that's likely to suffer when I open my door.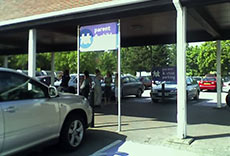 But I'm heavily pregnant and it's actually a struggle getting in and out of my car with the bump if I can't open the door wide enough. I'm too bothered about dirty looks to use a parent and child space, so instead I hung a 'Mother to Be on Board' sticker on the driver's side back window in the hope that people MAY be more considerate when parking next to me.
No such luck. In fact, it's almost the opposite; they seem to do it more and more now just out of ignorance or spite. Some people have no consideration at all for others when they park their cars.
I'm this close to saying 'hang it all' and using the parent and child parking spaces, if only so my baby won't be born squashed and with the imprint of a door handle on its belly!
By: Mallory
Leave a comment