143 comments Add a comment
I have always been very aware of difficulties faced by people who have mobility problems, and having been raised in a family with a disabled sister, I was always taught to offer assistance if needed.
Recently while visiting a gardening project for the disabled where there were several wheelchair users, I decided to have lunch in the restaurant. A lady in a wheelchair was being served beside me, and appeared to be having some difficulty carrying her tray, I offered to assist her, was immediately drawn the most vile look ever, and told she could manage perfectly well, thank you.
Did that give her some sort of right to be abusive?
She then proceeded to drop the tray, spill her soup and then complain to the overworked lady serving on her own at the counter that it was her fault for not taking it to the table for her. The lady serving then had to stop serving, clear up this mess, and take more criticism from this dreadful woman with a chip on her shoulder. Yes this woman had a disability, she was in a wheelchair, but did that give her some sort of right to be abusive to everyone?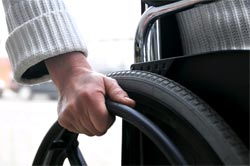 After all this I will be very cautious on offering assistance to a disabled person in the future as this woman made me see that she clearly disliked able bodied people assisting her in any way, or did she just like having attention paid to her and offending other people?
Anyway, I will not be revisiting this gardening project again in case this unfortunate woman happens to be there and is still being abusive to the able bodied.
By: Gardener
Leave a comment