105 comments Add a comment
Why do these dozy pheasants always get in the way? On my way to work this morning I took I slightly different route than usual and on one particular road there were pheasants everywhere.
These pheasants just seemed to appear from nowhere. Luckily I wasn't going too fast because at one point I had to come to a grinding halt while this stupid pheasant decided which way she wanted to go. It seems as soon as they see a car they decide to run for it, right out in front of you! Time for some defensive driving I think!
I don't understand why people breed pheasants
I really don't understand why people breed pheasants only to let them run wild and get killed by cars. I dread to think how many dead pheasants I have seen on the sides of the roads.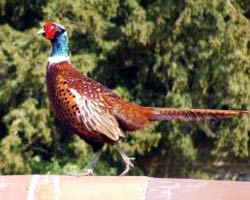 If people are going to breed them then won't don't they somehow confine them to a certain area instead of letting them roam where they want to when half of them will get killed by cars etc…
It may sound cruel confining them but at least they'll have a longer life and will be less likely to become roadkill.
On another note, surely this is a great danger to people driving on the road. I wonder how many serious accidents have happened because of pheasants running out in front of cars and people have tried to swerve and avoid them. Keep your pheasants locked up!
Leave a comment