95 comments Add a comment
We've got quite a melting pot of different ethnic groups here in the United Kingdom. However, our primary language as spoken by the vast majority of people is still English as far as I am aware.
I can fully appreciate that foreign visitors cannot be expected to speak the language, after all I can't speak Spanish and I have visited Spanish owned islands on many an occasion. I do try to make an effort and learn a few phrases though. It takes time to learn English and as long the people who have moved to this country at least make the effort, I have no problem with that either.
Language used to cloak their conversation
However I take great offence when people use their native tongue to cloak their conversation in the presence of others who do not share their language. It is just plain rude and quite unacceptable, particularly so when they were speaking English perfectly well just before you walked into the room.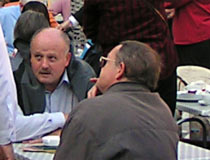 It happened to me only just now as I went to our company tearoom to make a round of drinks. A couple of people were in there having a discussion, about what I don't know and I am not interested anyway, when suddenly they started speaking in some eastern European dialect.
I'm not trying to be funny, or racist. But if you want to have a private conversation, go somewhere private and have it. Don't use your language to exclude those around you, as it is extremely anti-social.
Leave a comment