117 comments Add a comment
You can't open a newspaper or turn on the TV these days without fnding a story about some investment bank or other that has gone to the wall. Companies left, right and centre are announcing job cuts and the phrase "credit crunch" seems to be on everyones lips.
I didn't really have much of an opinion on the whole global financial crisis. Understandably my business was affected financially but I'm still making enough of a living to survive and that's all that really mattered to me. Some aspects of the situation have temporarily benefited me, and I'm sure those same conditions have put some people out of pocket. I know a few people who are very worried about the situation and others who have definitely lost money. Still, we soldier on and make the best of what we've got. We hope (maybe pray) that those in command of our country make the right decisions and steer us on the path to recovery. Can we do anything else?
What about the people who work for the big investment banks in the city of London though? They're on the cutting edge of all this and working in what must be a high stress environment. Each day they come into work and find they still have a job is a bonus. You've got to have some sympathy for them haven't you?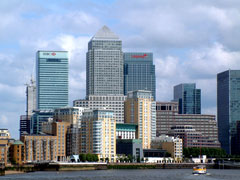 I've been in line for redundancy a few times myself so I know exactly what it's like. I was actually made redundant in the middle of the last recession in the early nineties. I wasn't overly concerned at the time; being young, having no responsibilities and some marketable skills meant finding another job was relatively easy. No doubt some of the men and women working in the city may find securing employment a bit trickier this time round. I may have had some sympathy for these people yesterday but not today.
Spending £20 on some Sushi or Dim Sum...
I read an article in which the city bankers gave an insight as to what it was like working there at the moment and how 'tough' they were finding things. When I read the bit (written by a city employee of over a decade) that said "People are buying lunch for £5 in the cafeteria rather then spending &pound20 on some Sushi or Dim Sum outside"... well I'm afraid any compassion I might have felt for these guys dried up right there and then!
In the first instance, who goes out at lunchtime and blows £20 on a whim? I'm sorry, but someone who used could be so extravagant on a daily basis before the financial crisis will get only my contempt. Even £5 spent spent in the cafeteria could be considered unncessary as I could quite easily (and often do) make this last a whole week!
A monthly team lunch at a nice restaurant is one thing, but pointless daily extravegance for the sake of it is another matter. I wonder if such carelessness with money is perhaps the root cause all these problems and perhaps amore meagre salary would teach these people the value of money. As the saying goes "you reap what you sow" - so maybe you lot are all getting what you deserve!
Leave a comment