22 comments Add a comment
Let me tell people about my SKY gripe. A few weeks ago my next door neighbour got SKY+ installed - no he didn't tell me he was getting it or I could have drank £50 worth of M&S booze to recover.
Anyhow, the engineer installs the dish slap bang in the middle of our semi-detached houses. Both houses are identical and my dish was hidden on east facing wall. When I attempted to access my own SKY channels that evening I was met with the familiar 'No signal is being received' message. When I went outside I could see what the problem was as my dish was pointing directly at my neighbour's satellite dish.
I telephoned the customer service centre and spent a good 20 minutes with the girl going through numerous security questions and getting me to reset the box as I had done myself previously before phoning. I pointed out on several occasions that my dish was working perfectly until someone slapped another dish in front of it, however initially she insisted this could not be the problem. Eventually she said I would need to pay the call out fee of £60 for an engineer. When I politely told her what to do with this suggestion she came up with this cracker...
I was to go round to my neighbour and explain the situation, telling them I could not afford to pay the call out fee so they would have to help me pay it!! I asked her if she was recording the telephone call as promised 30 minutes previously, and if so, could she please send me a copy to keep me amused when necessary. I got passed on to her so called superior who could not see what my problem was. I just couldn't understand why this problem was so difficult to understand!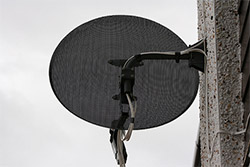 Anyway, when I threatened to cancel my sky subscription they soon agreed to a free call out. The engineer came two days later and asked 'Who the **** had put up that dish?' He told my wife it was one of the worst installation jobs he had seen. Did he report it? No of course not. So did he rectify the problem? No he bleeding well didn't! Instead of moving their Sky dish he elected to put my previously 'hidden' Sky dish on a large pole so that it now sticks out the top of the house. What a perfect solution to the problem - why didn't I think of that!!!!
Good old SKY... flaming useless, but second only to TALK TALK! Yes, we went there as well and they're at the top of the 'poor service' league.
By: Meldrew
Leave a comment