10 comments Add a comment
Have you noticed the ever changing and expensive graphics on the side of the vans driven around be these Sky installers? It's a bit sad that Sky do not devote some of their income to providing a quality installation service instead of making these vehicles look pretty.
Regarding Sky installers their level of workmanship, I presume it's on the paperwork somewhere that they will not work in lofts, run cables through cavities, or drill internal walls. The householder should bear this mind when considering an installation because it can result in the external appearance of your house resembling Widow Twankeys Laundry with cable strung up clothes line fashion!
...in the gutter for a distance of over 15 metres.
In my case they went one better and installed the cable completely out of sight by simply dumping it in the gutter for a distance of over 15 metres. This cable will spend a good deal of its life immersed in water and what happens to it when someone decides to clear the gutter with a scraper? This cable will presumably be covered in debris and make the job more difficult, may end up being damaged itself (assuming it lasts that long). It's a completely ridiculous place to install a cable and I'd be more than a little concerned if they were told to do this when they were trained for the job.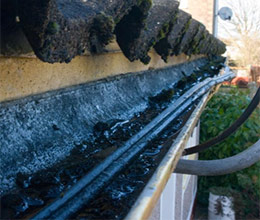 I did write to Sky and send them pictures of the installation and asked the question "Do you consider this a satisfactory installation?" I received an email reply advising they would send an engineer. After an inspection he has pronounced the installation satisfactory "because the cable is waterproof". He did offer to clip the cable to the fascia out of the gutter, but I declined, because I had already decided that the cable run would be through the loft and into a wall box. What happens now? Well when the cable is rerouted, if we find it damaged then we will invoice Sky for the materials. Watch this space!
By: Dave
Leave a comment