69 comments Add a comment
I use public transport to get to work during the week, and as a regular commuter I like to think of myself as a considerate and conscientious passenger, and as such I will not think twice about offering my seat to someone less able bodied or a pregnant woman. Also whenever passengers are leaving the train, I will allow them to exit first and will support mothers with buggies on the stairs or those with heavy luggage.
Some may call me old fashioned but if I am standing waiting for a seat and a woman is too, I will let them take the seat ahead of me. Perhaps I am in a minority of people who do this, but I don't think that it is a particularly bad habit and if more people did the same the world would be a more civilised place. This week, however, an incident occurred which made me think, am I just being a mug offering my seat to a woman before me?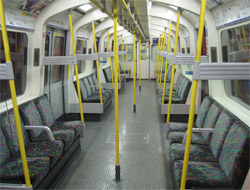 On a journey I was on recently the train was very busy and I was standing throughout a good few stops. A woman came on board and eventually a seat became available. I gestured to the woman to let her know that she could take the seat; she then sat down and just glanced up at me without so much as a thank you. Afterwards I thought did I do the right thing by offering my seat or is it every man/person for themselves in this society? Should I just accept that with equality offering my seat is plain condescending and I should not expect a word of thanks?
Interestingly I told a group of young male offenders who attend a workshop that I run this story. Nearly all of them said that they would not have bothered giving up a seat and some would have (in other words) given this woman a piece of their mind if asked to move - this is something I would never do.
What do people think?
By: Funkg
Leave a comment