54 comments Add a comment
People who put their feet up on train and bus seats. It drives me crazy. How would they like to sit on dog poo and chewing gum from someone else's shoes? Do they have absolutely no consideration for the next person who is now going to have to sit there, with their clean clothes now stained with mud, dirt etc? What is UP with these selfish people?
feet planted firmly on the middle of the seat...
Teenagers aren't the only culprits either, I have witnessed many adult that really should know better stretch their legs out, feet planted firmly on the middle of the seat, or else bend their knees and put their shoes on the edge of the seat.
Either way, you're not at home, you're not on a deckchair, you're on public transport so please exercise some respect and courtesy for your fellow passengers!
It's even worse when you're trying to find a seat and they glare up at you as though you're a big inconvenience and then reluctantly move their feet. I'm thinking, 'As if I'm going to sit where your feet have been, you moron.'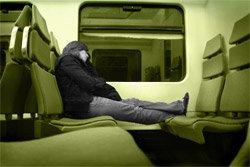 What I would like to do is say, "Right you sit where your feet have been and I'll take your seat, OK? I do hope you haven't got any dog muck on your feet - it'll go all over your nice clean trousers...ha ha." Of course if you DO quietly and politely ask someone not to put their feet on a set, all you get nothing but a mouthful of loud and distinctly less than polite verbal abuse. It's sickening. I really think that the transport companies need to put up signs as they currently do with no smoking. Of course they may well be ignored, but at least it's something.
What really makes me laugh is the way these people, or rather these slobs sit there wearing the latest fashion and mess around with their hair, all the while having their feet on the seat. Presumably they think it makes them look really cool or something, at least they act as if it does.. Oh well, shall I tell them thats not the case or will you?
By: ki
Leave a comment