10 comments Add a comment
Men's hair dye, what a con that is! If, like me you have been going grey since the age of nineteen then the occasional brush with a bottle of hair dye is a necessity. No doubt there will come a time when I can cease doing this and grow old disgracefully, but for now I feel much more comfortable looking somewhat closer to my age.
Hair dye for men - it's a blatant rip-off!
The problem I have is that hair dye for men seems to be outrageously over priced when compared with similar products aimed at women. Why is this the case? Another thing I have noticed is that the amount of dye you get in the bottle is also a lot less.
Perhaps the companies that make it think they can get away with this because men generally have short hair and women tend to have longer hair. It's a blatant rip-off in my opinion!
Personally, I don't use the 'just for men' type hair dyes. I go to the women's hair care section and get my hair colouring product from there. I'm not embarrassed about this, but I can understand that a lot of men would be nervous at the idea. It's basically the same stuff though. It certainly seems to work well enough and how different can a man's hair be from a women's anyway?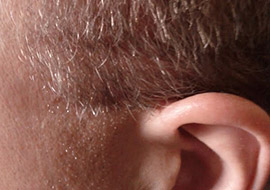 The one I generally use is called Poly Colour and it's usually about 2. You can find it in quite a few of the cheap bargain shops that sell toiletries and household cleaners. As my hair isn't that long I usually keep the plastic bottle from the previous package, clean it out obviously and divide the liquid in two, that way I can get two hair colourings for the price of one. At an average of 1 a month it's a pretty cost effective way of keeping you're colour!
By the way, the reason I'm writing this gripe is because I have just used one of the men's hair dye kits. It was absolutely rubbish. It came with a stupid gimmicky brush that's meant to make application easier. The actual result is lots of little brown dots everywhere and it doesn't really help with the coverage because it didn't get to the ends properly. I should have just did what I usually do and lather it in with the gloves. One good thing about it was the development time of ten minutes instead of three quarters of an hour. Still, I wouldn't pay an extra 5 just for that (it's normally 7!). By the way, I can't really complain because my girlfriend got the kit for free. My point is though, why should men pay more for hair dye?
By: Silverhair
Leave a comment