54 comments Add a comment
Last month I was travelling to work on the A1124 Halstead Road at Earls Colne in Essex and on the way I stopped at a newsagents to purchase a newspaper. When I exited the shop I witnessed a blue van reverse into my car causing damage to the rear right hand side. It began to drive away so I ran after it and stood in front of it to stop it. The driver got out and said that he was sorry for hitting my car and that he wasnt looking where he was going, he apologised again and gave me his insurance details.
When I arrived at work five minutes later I telephoned his insurance company and confirmed with them that he was insured and had given me correct details, I told them what had happened and they told me there was nothing they could do until the accident was reported to them by the policy holder. So I telephoned my insurance company, Admiral and reported it to them. They told me to take my car to Colchester accident repairs where it would be repaired.
As instructed, I took the car to Colchester and was given a courtesy car while mine was being repaired. When settling the bill with the garage I had to pay an excess of £300. I questioned this with Admiral as the accident was not my fault and I was told that that I had to pay it and that it would be refunded to me when the money was recovered from the other insurance company. Like a fool I trusted Admiral and paid the £300 believing that it would be refunded to me as promised.
The next week I received a letter from my insurance company stating that my policy was due to expire and that I should renew. My premium had gone up by over £300 so I telephoned Admiral to ask why. I was told that I had lost my no claims discount due to the accident. Naturally I told them that the accident was not my fault and that I had given them the details of the guilty party who had admitted fault. I was told that there was nothing that they could do about it as until money was received from the insurance company, it was counted as pending and that I should pay the extra and that it also would be refunded to me along with the £300 excess when the money was received from the other insurance company. Again, I believed them and paid up, presuming that in the near future I would be receiving around £600 that was due to me.
At the time £600 was over half of my monthly salary and put me into financial difficulties. But being naive I believed that I would get it back. The next thing I heard was that the van driver had apparently contacted Admiral and admitted fault. He told them that he didnt want the accident to be dealt with by his insurance company and that he would pay for any damage himself presumably to retain his no clames bonus. Admiral agreed to this without ever consulting me or even informing me of their intentions.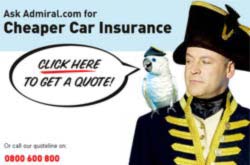 When Admiral sent the van driver the bill for repairs he returned their letter saying he no longer lived at that address and had left no forwarding details. This was a blatant lie because he lived a short distance from my work and I saw him every morning. I lived in Colchester and worked in Halstead, he worked in Colchester and lived in Halstead and I passed him on the road every morning. I informed Admiral of this and again was told that there was nothing they could do about it and I would not receive the money owed to me until the money was collected from him in full. They also informed me that they had passed his details on to a debt recovery agency who were trying to trace him. Even though I continually enquire about this matter by telephone I am told it is still pending, that was three years ago. Since then I have had quotations from other insurers who quote an over inflated premium because I have an ongoing claim to which no fault has been agreed.
I would estimate that to present, building up my no claims discount again by paying the higher premiums together with the £600 owed to me I am out of pocket in the region of at least £1,000, money that is due to me because of Admiral's incompetence in dealing with this matter properly.
Article By: Aggrieved from Colchester
Leave a comment