8 comments Add a comment
My grandfather didn't see anyone in the car park and my grandmother who was sat in the car at the time, noticed a few 'dodgy looking fellas' in a van just watching everyone going about their business. She thought nothing else of it though; they had just stopped in to pick up a few bottles of wine to take on holiday with them the next day. I'm not sure if one of the men that morning saw the wine and thought "ahah! doddery old person and wine equals cash!", one can only speculate but this is what happened.
That evening the police came around as they were packing and explained that he had allegedly knocked over a troley boy and drove off leaving him seriously hurt. The policeman was very nice and apologetic about the whole saga, however, he had to be cautioned because he had drank a glass of wine at dinner (apparently). The police said its not the first time that this sort of incident has been reported in the Beverley area and it was possibly an insurance scam. Naturally my grandfather rang the insurance company (Zurich I think) to explain what had happened. They were very interested and the fraud department rang them back and re-questioned him on a situation he knew nothing about, the fraud department said that there are patterns cropping up in the East Yorkshire area and if they hear anything else to let them know.
After a police investigation of the CCTV footage and questioning the manager of the store to see if any member of staff had reported injury etc., nothing untoward was found and no similar vans have been spotted in the area since. The insurance company have also dropped the case since no one has actually put a claim in yet (this was a month ago).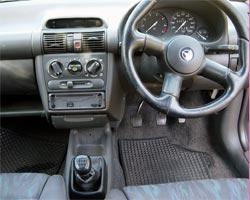 The damage has already been done though and my grandfather having been very shaken up by the whole incident with the police, decided to give up driving and hand in his drivers licence. He hasn't done anything wrong and this is the effect this whole thing has had on him. As if that wasn't enough, he has been told that he has to attend a road safety course (even though he gave up his licence) and pay for it himself. This course costs £224 and if he doesn't attend he will end up in court. He's eighty years old for Christ's sake! Personally, I would have gone to court and argued my case, but he's tired of it all and just wants it to end.
The human impact of this situation is massive. My grandfather is fully compus mentus, he used to be a lecturer and would give the world champion of chess a run for his money - even today! His pride is hurt massively, he's sold his nice expensive car for nothing just to get rid, he's become withdrawn and really quite nervous of doing anything in case he could hurt someone. He is a very proud man and we as a family, are very proud of him but we are so angry at this whole situation.
By: Jen Jen
Leave a comment