152 comments Add a comment
Last Sunday I was travelling home from London on the M25 with my other half, was going past Heathrow airport when a Polish lorry driver decided to plough his vehicle into the side of our car! We were in the middle lane doing about 35mph (there was a long line of slow moving traffic due to an imposed speed restriction of 40mph), we overtook a lorry who was on the inside lane, and as about 3/4 of our car had passed him he decided to pull out into the middle lane,despite there being about 6 car lengths of room in front of him in the inside lane.
Well of course he went straight into the back of our car, scratching it all down the side and denting the back bumper as he dragged us along the motorway! I was in the passenger side so leaned out of the window and indicated for him to follow us to the hard shoulder. I might add that he only decided to do this when I got out of the car as if I was going to run across the carriageway and kick his door in!
At the side of the road he patted the damage to the car and in very broad Polish, "Is small car... I did not see!", to which my reply was "If it had been a guy on a motorbike you would have killed him you ass-hole!"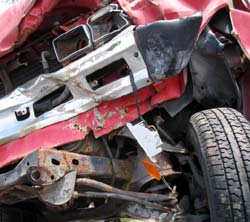 Lorry drivers are a liability at the best of times...
He only gave me his insurance details when a lovely lady pulled over and said she had seen what happened, he had simply not looked and pulled out into our car! She has kindly said she would be our witness - thank God there are honest people about!
I am so cross, luckily both myself and my other half are OK but the car is FUBAR, it could have been so much worse. Lorry drivers are a liability at the best of times, but the foreign ones drive like maniacs! Only 10 minutes before we had been cut up by a Portuguese lorry driver doing 50mph (in the 40mph zone). If they can't read simple signs (like how fast you should be going) and abide by the Highway Code (Mirror Signal Manoeuvre) they shouldn't be driving in this country!
Furthermore, since the accident we have been told we are unable to claim for the damage to the car. The driver did not report the accident to his insurance company and they have no record of the accident or the lorry. The lady that I spoke to at the call centre said that all we could do was to either contact their insurance company ourselves (which I have done by email already) and wait for a response or to have the repairs done ourselves and keep all receipts and then take the matter out with an independent solicitor.
She said that when people are hit by Polish drivers in this country, more often than not the case is never resolved. If an English man or woman had a RTA abroad the foreign police/authorities can contact the DVLA in Swansea and get all our personal details, but as the driver was Polish and has Polish insurance, due to some stupid EU regulation the British police cannot force the Polish authorities to trace this individual. How is this right?
By:Sarah
Leave a comment