196 comments Add a comment
My drive home takes me along some lovely country roads, the road is wide and quite fast. For the past two to three weeks I have driven home and about 3 times per week I have met the same lady and daughter and their horse. Each time I see them I slow right down to a walking pace, and drive past slowly. Each time I have passed them carefully like this and yet they totally ignore me.
A nod or a wave or even a "mouthed thanks" would have been nice...
This evening the "lady" gave me a filthy look as I passed her.
Okay, I'm in a car and not a horse, but that doesn't mean I am the scum of the earth - so why did she give me such a dirty look as I drove past? I should think that common courtesy is a two way street. Luckily for her my window was closed at the time!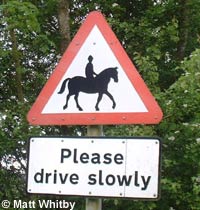 Highway Code: 191: Horse riders. Be particularly careful of horses and riders, especially when overtaking. Always pass wide and slow. Horse riders are often children, so take extra care and remember riders may ride in double file when escorting a young or inexperienced horse rider. Look out for horse riders' signals and heed a request to slow down or stop. Treat all horses as a potential hazard and take great care.
Maybe it's just me, but a nod or a wave or even a "mouthed thanks" would have been nice. Whilst not mandatory, some form of courtesy returned would have been appreciated. I was so angry I almost turned the car around to give her a piece of my mind! Being a rational person common sense prevailed. It doesn't take a great deal of effort to be polite and courteous someone shows you consideration!
Well if that's the way things are with horse riders and cars, starting tomorrow I will not "slow down for horses", well this particular one anyway!
By: Pugs
Leave a comment