74 comments Add a comment
I've been commuting to work by train now for over a year and have paid the rail companies somewhere in the region of £3,500 in season tickets. Well to tell you the truth I don't think that I have exactly received good value for money in that time. I've used a number of different train services such as Chiltern, Great Western and Virgin etc. and it's always the same old story of late trains and very costly season tickets.
We were all affected by the travel chaos that the country was left with after the Hatfield crash and the huge repair programme that Rail-track undertook afterwards. But even now certain train operators have still to come up to scratch and I think it's high time they put the passenger first instead of their own profits. The average commuter parts with a tidy sum of their hard earned cash each month and yet still spends a record amount of time standing on some platform listening to another announcement informing them that their train will be late or has been cancelled.
Commuting by train - expensive, cancellations, over crowded, poor service ...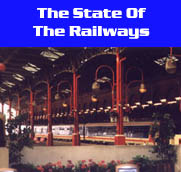 Who would want to give up their car and chance their arm with the state of public transport as it is at the moment? The buses are over crowded and infrequent, trains are erratic as well as expensive and if you live in London the only other alternative is to do battle on an over crowded and dirty underground system.
Another thing about commuting to work by train that really winds me up, is the cost of refreshments. How can the rail companies justify charging the extortionate prices that they do in buffet cars and for snacks and drinks from refreshment trolleys? Isn't it enough that we already fork out a kings ransom for the ticket?
I've come across a few sites on the Internet that publish passenger complaints and in some cases actually forward the letters on to the transport company involved, so they are definitely worth visiting. There's also a site called Train Refunds which aims to help regular passengers, including those who use London's Tube, claim compensation which is rightly theirs.
Leave a comment