59 comments Add a comment
Hi everyone, my gripe is all about London public transport, in particular the London Underground or is it's more commonly known 'the tube'.
I am increasingly angry with my daily commute to and from work on the London Underground. I ride the Central Line from east London (Zone 4) into central London (Zone 1). I need to arrive at work at 9am, Monday - Friday, which means that I arrive at my local underground station at about 8:20 each morning. I leave work between 6pm-7pm most days.
In the morning, more often than not, there is a 4-6 minute wait for the next train. In the evening the wait is generally shorter, but the trains are just as overcrowded. I don't mind waiting, but what I mind is the level of overcrowding both on the platform and on the train itself. Lately, in the mornings when the information board tells me that there is a 6 minute wait for the next west-bound service, I have started crossing over to the east-bound side and taking the train back a station. I never expect to get a seat, all I'm hoping for is some standing room in the middle of the seats, rather than in the cattle-section that is the space between the doors.
I spend just under 10% of my monthly salary (after taxes) on the tube
The crowding is bad enough, but what furthers my resentment is the cost. I spend just under 10% of my monthly salary (after taxes) on the tube. Just getting to and from work costs a fortune.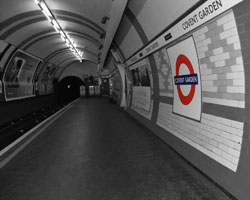 In New York City, a 30-Day Unlimited Ride Metro Cards costs 81 US dollars (at today's exchange rate, that is just under 57 GB Pounds) - almost one third of my current monthly travel expense with London Underground. Oh... and in New York City, there are no "zones" so this card is good for travel on subway trains and buses in all 5 boroughs (Manhattan, Brooklyn, Queens, The Bronx and Staten Island).
So what am I paying for here in London? What are we all paying for? All of the miserable, angry people who are forced to crowd together, jostling for elbow room, trying not to taste the shampoo residue from the hair of the person pressed up against us in front of us - why do we agree to pay so much for these conditions? I'm not saying that the conditions are any better or worse here than in New York - but I'm saying that essentially we all get the same service, i.e. a ride to and from work every day. That's the bottom line, right?
So, I'll tell you why I fork out almost 150 quid a month for the tube. I have no choice. Some people might say that I do have a choice - I could take the bus, or cycle, or drive, or walk, or move to a different flat, or a different job. Or I could leave earlier and try to miss out some of the "rush hour traffic". But those are all unrealistic "options".
I can't take "the bus", I'd have to take two buses and the total journey would take me 1 hour and 22 minutes (supposedly, according to TFL...) instead of the 50 minutes door-to-door that it takes me now.
Cycling would be dangerous for me as I am not very good at it. Furthermore, I don't have a bike. I don't have a car, and even if I did it would cost more in petrol, parking, and congestion charge fees than it would on the tube. Plus I'd still be stuck in traffic!
Walking from east London to central London is unrealistic. It would probably take me about 5 hours a day round trip! (that's just a guess)
I cannot afford to move to a different flat closer to where work, instead I live in a house share in Zone 4. People like me just can't afford to live within walking distance to work. People like me can only afford to share a small, old, semi-tidy house in zone 4 with 6 people and queue for the loo each morning. Maybe if I had an extra 150 quid a month I could afford to rent something slightly better (maybe only 4 roommates instead of 6?!)
Finding a different job? Okay, if someone wants to give me a job that pays the same as I earn now and is walking distance from East London, Zone 4, please reply to this post and let me know what's on offer!
Leaving earlier to miss out congestion, now there's an idea. Well, maybe I'll get extra passionate and do some tests this week to see just how early one must leave in order to ride the train like a human being living in the civilised western world...
... and maybe next time I'm here at The Weekly Gripe I'll gripe about the delays and fun assortment of announcements that we are exposed to on the London Underground.
Looking forward to reading your comments!
Leave a comment