40 comments Add a comment
Last December Greene King removed our locally brewed beer (Harvey?s Best) from one of its pubs The Lewes Arms. Along with many other locals who used to frequent the pub, I now drink elsewhere now, but miss the pub?s features and clientele. I miss the friendly atmosphere and familiar surroundings.
Greene King took over this pub along with several others back in 1998 and initially left the Harvey?s in, but this all changed in December 2006 when they decided to remove it and replace it with their own beers. This comes as a bit of a shock considering that Greene King is currently running an advertising campaign urging people to support local pubs.
Support for a boycott of The Lewes Arms and indeed Greene King has been growing in recent moths. Take a look at the web site ?Friends of The Lewes Arms?, or indeed have a stroll around town and you?ll see a number of people sporting the boycott badges.
Perhaps more sinister is the fact that our comments on the Greene King forum pages have recently been censored. Whilst these comments were against Greene King's decision making and decision makers, they were not obscene, personal or prejudiced other than against their decision to withdraw Harvey?s A decision that seems more out of spite than for profit since 3 out of 4 pints beer drawn in the pub were of local brew rather than Greene King?s own ales.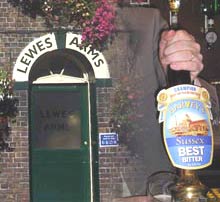 Currently I have been banned from the discussion forums on the Greene King?s web site unless I obtain a different IP address.
We know we will most likely lose this fight, but we want to highlight the fact that whilst Greene King is advertising full support for the ?local pub?, they appear to be doing the exact opposite. If you want to keep tradition and the irreplaceable British pub then be concerned now.
If you feel strongly about this or there are any more of you out there suffering corporate style bullying then and take a look at the sites below, join in the discussion and get involved. British pubs and drinking do not need influencing by a corporate board interested in only making money and doing so with total disregard to traditions!
By: Shy Vera
Further information about the boycott
Friends of the Lewes Arms - The Death of the English Pub? The Friends of the Lewes Arms are campaigning to have Harveys beer, brewed in Lewes, restored to their local pub. Lot's of information, discussion and history etc.
The Lewes Arms - A blog celebrating a very special pub and supporting the 'Hands off our Harveys' campaign being run by the Friends of the Lewes Arms. We support local beers and local and community pubs.
Leave a comment