62 comments Add a comment
I read in the news today yet another story in the news today about a defenceless old lady who had been beaten to death in her house. This kind of thing really turns my stomach.
It is absolutely disgusting to think that there are people out there that can actually carry out that level of violence on a frail old person who in no way could fight back or defend themselves. Locking these thugs up and throwing away the key would be too good for them. If ever there was a chance of bringing back the death penalty, then I think this would be the kind of crime that would probably merit such a severe punishment.
The lady in the news article I mentioned couldn't even walk properly anymore. She lived in a small community and was loved and respected by everyone, and yet these cowards saw fit to taker her life. What kind of a person could do such a thing? I'll tell you what kind of person they are, they're scum-bags, nothing but degenerate lowlife and I would happily pay more tax if I thought more could be done to rid our society of these people.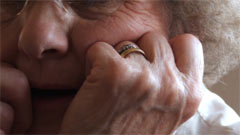 We need to spend more money on policing and protecting the old and vulnerable. All too often you hear about yobs that attack the elderly, then get off scot-free and are immune from prosecution because of their age. Their punishment amounts to a slap on their wrists and this is where the real trouble begins. Children need to be better educated and taught to respect the elderly because we can't go on like this.
We all have parents and grandparents and we're going to be old and vulnerable ourselves one day. Please let's do something to stamp out this evil and despicable crime against old people.
Leave a comment