119 comments Add a comment
Some cars or more appropriately the driver, have absolutely no respect for cyclists on the road. Do they think we belong only on cycle lanes and shouldnt be on the road? Sometimes we have no choice but to cycle on a public road. Cars and cyclists are both bound by the rules of the Highway Code however and both should obey these safety rules regardless of the type of vehicle.
For example, I nearly got knocked of my bike by MX05 XTW - a red 4 wheel drive. I was cycling up a hill near Menlove Gardens West in Childwall, Liverpool. Its quite a narrow road with cars parked on the left hand side.
This car turned left onto the hill and drove down the hill towards me expecting me to stop and pull over. We both had to stop - but the Highway Code says you should allow vehicles travelling uphill to have right of way. The driver of this vehicle obviously thinks that they are exempt from these rules of the road. She and her passenger actually had the nerve to stop, get out of the car and harass me for daring to pedal up their hill.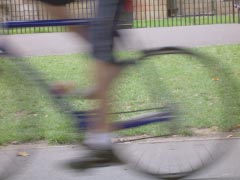 Go and read the Highway Code!
By the time this happened I was too knackered to say anything other than, go and read the bloody Highway Code! Typically, she wasnt listening and insisted I should have pulled over.
To the woman driving MX05 XTW - You are a danger to other road users and youre going to seriously hurt someone one day. Maybe you should re-sit your driving test or at the very least read that Highway Code as I suggested!
Too many car drivers these days think that they own the road. I drive more than I cycle but always give cyclists plenty of room.
Leave a comment