55 comments Add a comment
I don't know about you but I am growing sick of the number of foreign registered vehicles on UK roads. I teach English as a Foreign Language and many of my students have told me that they have Polish, German, Latvian registered registrations because it is cheaper to pay road tax there.
Seven years ago I moved to Germany where I stayed for four years. You may or may not have noticed that German number plates have two discs in the middle after the letters which indicate their town. The police can scan these discs with a gun and find out instantly whether the car is taxed, MOT'd and insured. Needless to say foreign vehicles are routinely stopped and notices are always served to re-register the car. Obviously as a law-abiding citizen I did this as it was German roads I was using and not British ones, so it was only right that I contributed money to their upkeep.
However the Germans' tougher, meaner neighbour Austria have a completely dodge-free system and we, as good Europeans should borrow it from them. Upon arrival in Austria all foreign vehicle must purchase a Vignette which is a temporary road tax sticker. Up to 100km away from the border in Germany there are places to buy this dotted along the motorways and you can buy it on the border itself too. It costs about 15 EUR for 10 days and is used so that private and commercial vehicles contribute to the roads that they are using - which is especially wise as most foreign vehicles in Austria are not-resident, they're simply passing through on the long drive between Istanbula and Paris or London.
... foreign vehicles may remain foreign registered for up to six months legally
There are very clear picture instructions telling you specifically where to place it on the windscreen so that police cameras can pick it up. If it is wrongly displayed you have to pay a hefty fine and if your car doesn't have one, the police can and will impound your car. They don't mess about in Austria! You either do it their organised and efficient way or you pay the consequences. There are no grey areas.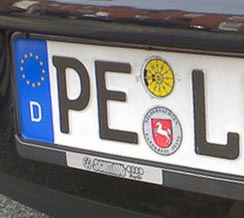 One day after feeling personally aggrieved with a UK-Road tax dodger I went to police and asked what could be done about it as I knew that the car in question had been in this country for over two years. I was told that foreign vehicles may remain foreign registered for up to six months legally. I naturally explained that this car had exceeded this limit and then some. The police officer said that it must be an uninterrupted six months - yes you guessed it! That means if they take the car on a day trip to Calais or Dublin and then bring it back the whole thing starts again. This is completely outrageous and sadly completely British - disorganised, vague and wishy-washy.
The police officer also told me that it wasn't a police matter unless the vehicle in question was breaking a law. She advised me to tell a traffic warden but the problem with this is that in Kirkcaldy where I live, traffic wardens only patrol the town centre and only work between Monday - Friday 9am till 5pm. Incredible on the downside it means that any Polish person that works in a factory with a car park and lives outside the town centre can get away completely Scot-free. On the plus side though, it means now that I can utterly ignore all maximum 20 minute parking signs after 5pm and all day on Saturday and Sunday! If you can't beat them, join them I say!
By: Jimmy Beaver
Leave a comment