34 comments Add a comment
I despise job application forms, I really do not like them at all! Does anyone else out there hate filling in application forms as much as me? Having the same job for over six years and therefore not having had to fill them in makes you forget just how annoying they are.
My daughter is just one year old and I am now in the process of looking for a part-time job for a bit of extra pocket money. I didn't go back to my original job as I felt it was made difficult for me to go back part-time, and I didn't want full time hours so I stuck to my guns and quit.
There is no big agenda here, I really do just want a wee bit of extra cash and I'm not ashamed of that. But it seems that I'm not allowed to 'just want a bit of cash'. No, its not that simple at all and getting a little part time job isn't exactly a walk in the park any more. Instead I have to explain why I am interested in the company (a card shop), what I know about them (they sell cards), and what qualities I will bring to the company (I don't steal things). I have to do personality quizzes to determine my suitability.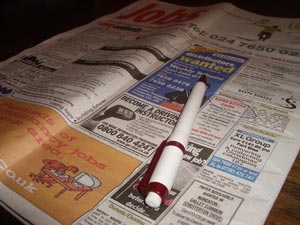 I have to TELL LIES and pretend I'm actually really interested in the company and it has always been my dream to work there.
Who the hell makes up these stupid generic application forms anyway? I am a mother now and I don't have time for crap like brown nosing for a job where I just stand on a till and make the bar code go 'beep!' I don't want to provide a scenario in my life where I showed the following skills:- bravery, dedication, hard work, confidence, and most importantly excellent envelope sealing skills - blah blah blah...
I work hard every day of my life, it is called being a parent. I am clean, tidy, nice, friendly to other people and I smile lots. But do you know what? I JUST WANT A BIT OF CASH, I don't want to spend half a day filling in job application forms full of pointless questions!!!
By: MissusHill
Leave a comment