52 comments Add a comment
Christmas is just around the corner and I know I'm going to get some flack for this, maybe hear a few comments like "Bah! Humbug!", but it's got to be said anyway. I really don't like Christmas these days with a passion and it's mainly because of the way it gets rammed down your throat whether you celebrate it or not.
First of all it's the radio. I've actually got a whole gripe dedicated to Mercia but I'll save that for another day and stick to the Christmas gripe. The problem I have, is that I work in an environment where we have the radio on all day long and so listening to the same songs every hour is actually quite torturous enough, so when they start playing "Winter Wonderland", "Santa Claus Is Coming...", "Frosty The Snowman", "Merry Christmas Everybody" and "Stop The Cavalry" every hour you start to seriously question you're sanity. Then there's the adolescent radio DJ who's so excited about Christmas he sounds as if he's about wet himself... where on earth did they pluck him from? This is all fine for those who just have to drive to work with the radio on, but spare a thought for those of us who have it in our ear all day. Of course let's not forget that we get more of the same every time we go into a shop or supermarket throughout the month of December!
My next point would have to be the way that Christmas is seriously over commercialised and pushed hard by the retail sector from November onwards. The bonfires are still smouldering when the first leaflets advertising a Christmas Sale drop through the letterbox. Christmas trees, lights, crackers, puddings, mince pies, nuts, those trashy gift sets, chocolates, wine and cheese boards all suddenly pop up on the shelves as if by magic. Actually, I have to say that this all came to my attention when I visited a pub this year to have a meal and they had already put up their Christmas decorations and Christmas tree... in OCTOBER!!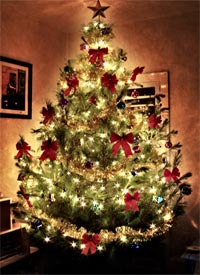 We're supposed to be trying to conserve energy and where possible recycle to lessen our impact on the environment. Why then are half the houses in our street lit up like giant Christmas trees. They actually look pretty tacky with thousands of flashing lights and giant animated Santa's and Snowmen. I can only imagine what the electricity bill for that household will be like. This probably wouldn't be so bad if it were just a couple of weeks in the year, but these people have the Christmas lights on from November until nearly the end of January! Why??? Another point I'd like to mention is the obligatory sending of Christmas cards to everyone you have ever vaguely known. It's kind of nice I guess, but I can't help but feel guilty about all the card and paper used at this time of year for a simple Christmas wish. I know there are card recycling facilities these days (not everyone uses them) and that the kids can use them in craft projects etc., I just think that it's still a bit of a waste so these days I quite often send e-cards to my tech savvy friends. By the way "Mel and Ian", I have absolutely no idea who you are or where you live so don't expect a Christmas card from me in return.
The giving and receiving of Christmas gifts is supposed to be a joyous thing, but I can't help feeling that it's all a bit false these days. We're going through the motions because it is expected of us. The shops of course have us sewn up good and proper with a vast range junk ready to be snapped up by those who don't have the time to put in a bit of thought or creativity. I wonder how much capacity on our landfill sites can be attributed to unwanted (and possibly undeserved) Christmas gifts. I think the over spending and the money side of Christmas has already been covered elsewhere so I won't go on about it here. But it's all for the kids though right? You know, those little darlings that terrorise you the rest of the year with their whining. Hmmmm... that's another gripe I think.
There are plenty of other things that bug me about Christmas but it's mainly the lack of balance and the way that we're really starting to go way over the top about it every year. We're turning into a bunch of Americans for goodness sake! So... can I look forward to a tirade of those "Bah! Humbug!" comments then? By the way, there's a few things I do like about Christmas such as the time off work (not nearly enough though), a bit of socialising with friends, seeing the family again, and of course the yummy food and drink... who doesn't enjoy that? Don't over indulge though because the weight loss companies, money lenders and package holiday companies (presumably to get over the stress) are all waiting for you to emerge in January.
Leave a comment