103 comments Add a comment
Well the ones that actually take place in the office definitely do, because for one thing you don't get a chance to escape the boring office environment.
But all Christmas work parties wherever they are held can feel like nothing more than an extension to a day at the office. There's nothing worse than being sat at a table next to Bob the project manager, who doesn't exactly know how to let loose and have fun at the best of times. He's the one person you DO NOT forward jokes on to. Instead of having fun, letting what's left of his hair down and maybe getting a bit merry; he decides instead to bore you half to death with shop talk. We could have just stayed at the office and had that; at least I would still be getting paid to listen to all that nonsense.
Talking of cash, if you're lucky the company might stump up for the Christmas meal, that at least goes some way to compensate for the fact that you have to spend an evening away from your friends and family to talk shop with Bob. It can get expensive at this time of year, and sometimes there will be more than one of these events to go to. I once worked for a charity and as you'd expect the employees forked out for their own Christmas meal. You should have seen the chaos that ensued when it was time to pay the bill. Still, at least they were a friendly bunch so it wasn't all that bad.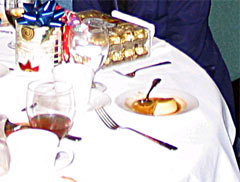 Another thing about the Christmas work do, if you go to a restaurant or other venue, they're either held at some obscure place out in the middle of nowhere, or at some really expensive joint. What on earth is that all about? Can't we just go for some centrally located venue that is both convenient and affordable for everyone in the department? After all, we're not all on a big executive salary and some of us might just require a few sherbets to make it through the evening.
I've never really been to a 'wild office party', the kind that you hear about in the gossip columns. To me the Christmas bash has always been a bit of a chore and one I could quite happily live without. It's not that I'm not sociable; it's just that I would generally choose a different crowd to hang out and spend my time with. Time for me is very valuable. There are a few exceptions and I've made some really good and lasting friends through work, these people I still regularly go out and socialize with.
The office Christmas party is to me, a very fake social engagement. But then again, as I said maybe I haven't been to the right 'office party'.
Leave a comment