18 comments Add a comment
If Christmas isn't bad enough, what about New Year? What's all that about? I've just got shot of Aunt Mildred (thank god) and I've sold that awful celebrity fitness DVD on eBay. Then, just as I've started to restore my sanity once again, which is difficult after a week long diet of dry Turkey sandwiches, I have put up with more forced jollity and another bout of alcohol poisoning come New Year's Eve!
What's so special about New Year anyway? If this year was truly terrible, as it has been for a lot of people, why on earth do we want to celebrate the coming in of what is likely to be another equally disastrous year ahead of us? It's not as if turning my new Christmas calendar to January will magically turn my life around. Far from it. Quite apart from all of those enormous credit card bills to pay, all we have to look forward to in January 2011 is a 3% VAT hike on consumer goods, higher travel fares - yet again, filling in that dreadful self assessment tax return and more government warnings about what a tough year ahead we've got ahead of us. A year likely to manifest in hiked gas and electricity bills, heavier shopping bills, petrol price rises, falling FTSE share prices, more mass immigration, more job losses and more news reports of MPs corruptions and scandals. The list goes on...
Some cause of celebration, that is!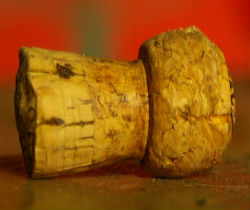 So far from wanting to make a twat of myself holding hands with complete strangers in the street, singing Auld Lang Syne, I'm tempted to down a bottle of Toilet Bleach instead or what is far more attractive, grab my passport and bugger off to pastures new in order to escape the whole sorry saga in warmer, sunnier climates.
Oh! I forgot, the planes aren't taking off in any UK airport because a snow flake fell on a runway somewhere, and besides, I can't get to the airport in the first place because the tube workers are on strike.
So where does that leave me? Scanning the supermarket shelves to see if the price of toilet bleach has gone up and then finding out I can't pay for it because I've maxed out on my credit card? I guess I'll have to swig that left over bottle of Christmas Champagne after all. A Grumpy New Year to you all...
By: Grumpy xx
Leave a comment