74 comments Add a comment
Pedestrian crossings and zebra crossings seem to have lost their meaning as far as drivers are concerned these days. I have recently been appalled by the lack of attention paid to the highway code by drivers out there. They do not seem to understand that they have to stop at a pedestrian crossing to allow the people waiting to cross when the lights are red and as far as zebra crossings are concerned, they're just stripy bits of road with people waiting at either side. Do we have to stand in the middle and wave our arms before cars will stop?
I took a walk to the shops this afternoon and I have to cross two pedestrian crossings to get into town. Twice it happened to me today, once on the way there, and once on my return journey; some idiot decided he couldn't be bothered stopping at the lights on red and decided just to race through the crossing, oblivious of the fact that I had already stepped into the road.
Many times I have seen drivers, mainly taxi cabs as it happens but that's another gripe, thunder passed through a zebra crossing without looking to see if someone's waiting to cross. In fact last night I saw this happen and the driver swerved around the person in the road because they just couldn't be bothered to slow down or come to a stop.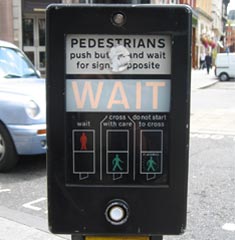 Has common sense just gone out the window...
What makes things even more dangerous are those inconsiderate people who park their cars on either side of a crossing making it very difficult for drivers to see people waiting. Has common sense just gone out the window these days? There is a major section of the driving test whereby you have to identify hazards, specifically people waiting to cross at zebra crossings! I'm well aware of this as a good friend of mine was involved in designing the hazard perception section. If people can somehow get through their driving test, why does all their training go out the window when it comes to these real life and potentially very dangerous situations?
I just wish people would take more care when they drive to and from work. If drivers took their time and had a bit more consideration for pedestrians and drove safely, we might all actually get where we are going on time and in one piece!
Leave a comment