386 comments Add a comment
As short as this gripe is, this story really makes my blood boil. Rightly or wrongly, it is currently legal to ride horses on the road in the UK. Indeed, they are actually catered for in the Highway Code. Drivers are urged to pass horses wide and slow, taking particular care when travelling round left hand bends because there could be horses on the other side.
There are 12 accidents PER DAY on our roads involving horses - thankfully, some of these are minor, but the majority of these range from serious to fatal for horse and/or rider.
Horses on the road - please, show a bit of human decency and slow down as you pass
All that is required is a little thoughtfulness. Surely it is not a lot to ask of motorised road users that they observe the Highway Code which is, after all, the law, not just a whim.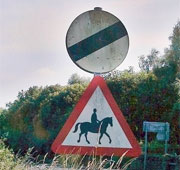 Even if you disagree with the fact that horses are allowed on our roads, do not take it out on them - the riders are there by choice, the horses are not, they go where they are ridden.
So please, show a bit of human decency when next you drive past horses on the road. You should, in turn, receive a smile, a nod or even a raised hand in thanks. If you do not, then may I apologise in advance for the rudeness of the rider/riders involved. They are ignorant, ill-mannered people who deserve the tongue-lashing that hopefully you will give them - but remember, please do not take it out on the horse!
By: Nikki
Leave a comment