194 comments Add a comment
In this country, I can count on one hand, the number of times I have driven in fog that required fog lights in the LAST TEN YEARS. And, on a motorway, I was doing 20mph because I could not SEE far enough to go any faster. The vehicles I could see in front of me (less than 40 yards away) with their fog lights on were a blur, just visible. On the rare occasions that this happened, it was some of the most frightening times I have ever spent behind a steering wheel!
People think that they look "cool"
Now, rear fogs lights you don't see as often these days; still there's the odd one or two idiots who have forgotten that they have them, like blinding people, or maybe they just don't care... but the FRONT fogs lights have REALLY kicked off. People think they look "cool".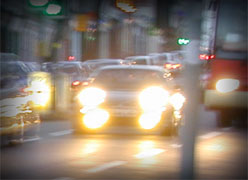 Let me tell you, they don't look anything except BRIGHT and they actually make YOU look really STUPID!
A lot of the time, they're misaligned, so that they shine up higher than they should and that makes them appear even brighter. They should illuminate the road out to the sides of the car and about 20 yards ahead. They don't have beam shaping like headlamps do, meaning that they aren't dipped to the right and high on the left.
They are NOT an adequate substitute for properly adjusted, properly used headlamps. So WHY do people use them the way they do? In fact, I don't want to know why - I want you to turn them off. Now. Or I'll smash them!
By: Stonelaughter
Leave a comment