203 comments Add a comment
If you've ever called the customer service desk of some large organisation, you may have experienced frustration, anger or despair and been left with the feeling that you are nothing more than a nuisance or unwanted interruption to the person on the other end of the line.
I had a similar experience several times recently when I called a telecommunications company to arrange for services to be installed at my home. I must have spent no less than four hours in the last month skulking in the bowels of their telephone exchange either on hold or choosing frantically from the range of inappropriate options some disembodied voice presented me with.
Awful telephone music for another ten minutes...
I wouldn't mind if this time had actually got me anywhere but to this day I still haven't had the equipment I requested completely installed to my satisfaction and I am currently waiting on the phone call I was promised.
Another thing that really bothers me when I ring up these places is the number of times they have to transfer your call to someone else who 'might' be able to help. This will usually mean you have to suffer some awful telephone music for another ten minutes and you may be cut off at the end of that and then have to go through the whole process again.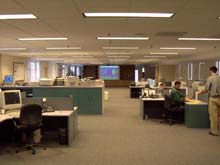 Of course going through the mill again including the extra long pre-recorded message advertising their website which is almost but not quite more useful than the help desk you are trying to get through to.
It seems to me that the bigger a company gets the more impersonal the staff in customer services become and it is only the smaller companies that are able to offer a more human and user friendly service. I myself work in the support department of a small organisation and have some idea of what it is like to deal with customers on a day-to-day basis. I don't think the people I deal with would be very happy if I put them on hold, lost their call or transferred them around the office every time they called.
Leave a comment