52 comments Add a comment
Okay, so why is the current generation of teenagers being victimised? Let's face it, we are because there's hardly a day goes by that you don't see something in the news or on television. I don't understand why this is so, because I think that the majority of us are actually decent human beings. There's only the few bad apples dotted around the country that let all of us down. They do something wrong and before you know it "All teenagers are up to no good", and the rest of us are up the creek without a paddle.
For example, I was walking home the other day and I have to cross a particularly busy road to get to where I live. It happened to be just 'spitting' with rain and yes I admit it, I was wearing a hooded top, but not what you would call a hoodie. Anyway, I received so many dirty looks from passers by whilst walking down the road and all because of the hood. I mean HELLO, I'm just an innocent person walking home and it just happens to be raining!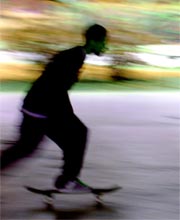 I swear that some people seem to think that all teenagers are in to knives, drugs and fights just for laughs. I don't even know anyone like that at my school and before anyone suggests as much, I do not go to a posh school where everyone is perfect. I guess the saying "the only good news is bad news" is so true.
Try to cut teenagers some slack...
Besides, has anyone ever thought that SOME teenagers might just behave the way they do because they learned this from adults in the first place? Are the adults to blame? No, of course not, it's all the fault of that teenager with the hood. Anyway, I might be the only person in the world thinking this, but what can I say? It's something I feel strongly about, so there we go - I feel much better now.
Please, don't try and judge a book by it's cover and try to cut teenagers some slack. All my friends and most people at my school are all decent, and quite nice when you get to know them.
By: Rock_gurl
Leave a comment