15 comments Add a comment
It's that time of year again when city workers like me dread the trip into work on rainy days as we battle through crowds of other commuters carrying deadly weapons, using them indiscriminately without any thought for fellow travellers. I'm talking about umbrellas here, and the way that their sudden appearance on wet days can make a trip to work seem like jaunt through a mine field.
Long pointy umbrellas or stubby umbrellas resembling a police truncheon, they come in all shapes and sizes but do damage to the sleepy commuter just the same!
It's not that I mind the fact that people want to protect themselves from the elements; it's just that people like me are the ones who suffer. We are regularly poked in the leg or sometimes in the eye by umbrella waving lunatics. On wet days I sometimes carry an umbrella myself, but it's not the heavy calibre model with a 5ft canopy and a detachable warhead to boot.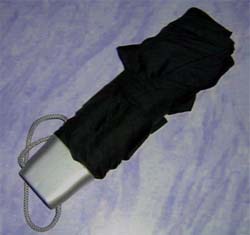 Mine is a stealth model that can easily fit into a brief case; it provides just enough shelter to keep dry but doesn't get in the way of other people when I'm walking down the street.
Another thing that really annoys me are those people who shake off the rain from their umbrella all over you when they come in from outside. This seems to happen most frequently to me at the entrance of underground stations; they seem to attract the type of people who shake their umbrellas like a dog shakes its coat.
It's not nice being impaled first thing...
My point is, it would be really nice if people could think of others when they use their umbrellas. It's not nice being impaled first thing on a wet Monday morning on the way to work!
Leave a comment