8 comments Add a comment
Some of you may remember that I wrote a gripe about a friend of mine from South Africa who I felt was taking advantage of my kindly nature - here is an update, which I hope can generate some advice from anyone who may read this thread, or may have been in a similar "predicament" to myself:
In the last two years since bumping into him again, I am still struggling to know what to say and do for the best. We go out pubbing and clubbing, usually when we get paid, but when we do go out, it seems such an almighty chore. My friend has a car of his own, he will drive from his home, only as far as the Park & Ride facility then pay at least £4.00 on the fare, when he could use his own car!
When I do meet up with him, he always acts as though he doesn't know me, he acts quite rude and always likes to follow set patterns every time. I like to be more spontaneous but as he has not bought his car with him, we are completely restricted as to where we can go plus he needs to get back to the bus station, to catch the last P&R bus at 19:00 - he seems extremely edgy behind the wheel, he takes idiotic road behaviour personally and this will upset him and he gets very distressed with it.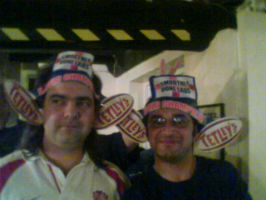 I have given him words of support, as much as you can, but I feel as though he does not digest this; he will carry on as normal. I find it very ignorant, rude and when we go out clubbing, he does not drink anything alcoholic, he will be completely sober on the dance floor and the most annoying thing is, he will constantly poke me and hang around me, and stand opposite me and will be whispering in his friend's ear and smiling. If a young lady catches my eye, he will stand ahead of me and he will be grinning superciliously, and also we attend Zumba classes every Saturday - there is a girl interested in me as she makes lots of eye contact with me, but I am fed up of seeing him watching me in the mirror and as we all dance, he tends to shove me towards her. He is being extremely immature; either that, or my expectations are very high.
In the past, he has had the audacity to "dress me down" when we fell out over honest emails about where I saw our friendship going and letting off some steam. He took me to a private place one day when we met up and he had the audacity to call me a "coward".
I am NOT a coward in any way, shape or form!! I have grown up in an unstable, aggressive background where I have learnt to become tough and streetwise as I've got older - my friend is very weak, he seems to think he?s tough but I do all the talking and negotiating and anywhere public he will say "you go first" - I apologise if this gripe is fairly heavy, but I don't know what to do! He never replies to my emails - he does when it suits him; when I send him a text, he doesn't reply, and when he doesn't hear from me at all, I'll get heavy emails, texts and voicemails as well!!!
Any advice is greatly appreciated!!
By: Peejay
Leave a comment