11 comments Add a comment
Hundreds of thousands of pounds have been spent on motorway information boards and a similar amount is being spent on the Traffic Officers and their new Land Rovers. All this has achieved is the exact opposite to that which they planned and the reason for all the extra funding.
I regularly commute from Kent to places as far off as Slough and Milton Keynes. I expect traffic delays and welcome the information so that I may adjust my journey if there are problems on the motorway. That information is not always forthcomimg because it depends on who is in the control room to turn on the information boards. As this information is in real time from the Traffic Officers, with their own CCTV you would expect the control room staff to update the information on the boards wouldn't you? How wrong we all are!
Any information we receive on the road depends on the person in the control room. To make a route change we need information a junction or two before the incident and we need to know what has happened. A breakdown is cleared much quicker than a multi-vehicle accident. Instead of reasonable detail and advance warning, all you normally get is "Queue Ahead" and with some control room staff you get nothing at all, or maybe just a generic message like "Think don't Drink and Drive". There are odd exceptions to this scenario, but the exceptions are not that frequent.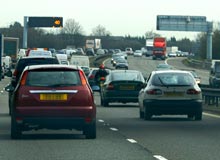 Having spoken to the Highways Agency they say it is down to the control rooms. The control rooms state that they follow guidelines from the Highways Agency, so who is right? Only the road user suffers.
Mobile Highways Staff, what is it with these people and lane closing? Incident on the hard shoulder close lane 1, incident on lane 1 close lane 2 as well, incident on lane 2 close the motorway. The traffic has already slowed down with the rubberneckers copping a look. There is a small minority that are professional (obviously ex-police), who deal with incidents professionally with a regard for the road user.
To cite an example. On the M25 anti-clockwise (junction six), there was an accident on the exit slipway in lane 3 with Traffic Officers in attendance. The car was coned off and vehicles were moving past in lane 1 and 2. It was slow but everyone was at least moving. Another couple of traffic units turned up and parked on the slip road blocking that part that had been moving and the whole thing just ground to a halt. To top it all they stood at the side of the road chatting and drinking tea from their thermos!
The Highways Agency has to be more professional and deliver a service to the road user.
By: Peter
Leave a comment