47 comments Add a comment
I find people who use a personal music on public transport, with the headphones turned up loud extremely annoying. There's nothing worse than taking a train or bus journey somewhere, and being forced to listen to someone else's taste.
How many times have you been on the train commuting to work and been sat next to some selfish git with their rap and hip hop music turned up to the max whilst they stare defiantly back at you. It's extremely irritating, and you dare not ask them to turn it down! No, that wouldn't be a good idea at all. Not that they have the slightest chance of hearing you anyway!
If you have plucked up the courage to politely ask the person to lower the volume, chances are you'll either get some verbal abuse (not always in English), a grunt or some other equally incomprehensible response. If you're really lucky they will realise they are offending others and actually turn it down.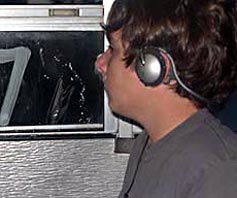 I'm not being a stick in the mud and I'm not trying to spoil enjoyment of music for others, but some people don't realise that the some of these in-ear headphones leak sound. I think it is the in-ear ones that at are the worst offenders. Don't the manufacturers ever consider how their products are likely to be used? Surely it must be possible to design headphones so that most of the sound goes into the ear.
Maybe it's not so much the personal stereo equipment that is the problem and this has more to do with a small minority of people who just have attitude. Even on trains that advise against annoying other passengers with personal stereos, you always get someone who goes ahead and does it anyway. I enjoy music myself as I'm sure the vast majority of people do. But let's not forget we all have different tastes, and some of us might actually just want to read or have sleep on the train!
Leave a comment