56 comments Add a comment
It really get my goat, when people turn up the volume of the car stereo and open all the windows. Haven't they ever heard of noise pollution, and do these people imagine that everyone else has the same tastes in music as them, hence the need to broadcast to the public? Quite apart from not being able to hear anything else around them, such as a horn or siren (surely a safety issue), it's actually very annoying for the rest of us just walking down the streets. Why do these people feel the need to play their car stereo so loud with the window open?
That familiar thump, thump, thump can usually be heard long before you see the car. Whilst the car itself may, or may not be sporting tinted windows and an extra wide tail pipe (the usual dress code for such vehicles), it will almost certainly have a baseball cap clad youth in the driver's seat. This young man tries to appear cool as he gazes around at the passers by through his sunglasses. He needs to make sure that enough heads have turned and paid adequate homage to the boom box in the depths of his car. You see It wouldn't do to have spent all your wages on car audio equipment and then get little reaction.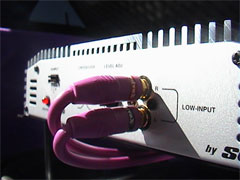 You can barely hear anything over the din
But there's worse to come. Not satisfied with deafening people on the street, the pumping sound from no doubt expensive car audio can still be heard when sitting in front of the TV. You've settled down to watch a nature program or to listen to the news and find out what the rest of the world is doing. What's the point though? You can barely hear anything over the din. All you hear is the pervasive thump of music or some rap artist screaming obscenities in your own living room.
Another form of noise pollution is car horns. Why not get out of the car and ring the door bell? Oh dear, I forgot. Why on earth would you want to do that? Better to be a lazy bum and remain in the car whilst blaring the horn and revving the engine. How considerate of you!
By: Kryton
Leave a comment