88 comments Add a comment
There are many ills in British society today but I thought I'd start off with something tame but gripe-worthy. Why is there an obsession with American Rap and R&B, which are both very primitive, lazy forms of music? They either anti-social or bump 'n grind lyrics, often with samples stolen from other popular songs.
Where are all the great British rock bands?
Please explain to me how a British youngster can identify with music borne out of US ghettos that represents a US way of life? Where are all the great British rock bands? Great examples such as Queen, Def Leppard and Led Zeppelin just don't happen any more. For some odd reason, people thought The Darkness were here to save rock and roll but look how that ended up.
I don't get Amy Winehouse, Lily Allen, Kate Nash, Amy McDonald etc etc. The obsession with these 'artists' is a sad testament as to the mediocrity of popular taste and what's with all the 'The' bands who have to think up ridiculous names in an attempt to disguise the fact that their music is extremely average. It all sounds the same, can people not hear this? The vocals are shouty/whingey, guitar playing is pathetic and the production sub-standard.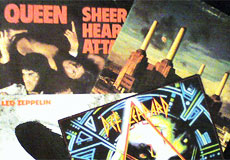 The abundance of reality music shows is a testament to the sorry state of British music. And people are surprised Brits don't crack the US market (Consider Winehouse's Grammys a tragic American mistake - just like Iraq). I often wonder if people are actually thinking for themselves about what they listen to or are they just blindly following trends (as dictated my media/record companies/influential people) to fit in.
Can you honestly argue about the artistic merits of British music these days? For the record, I listen to all types of music (except those referred to above), but especially, heavy metal, AOR, trance - and no, I'm not British!
By: Dave
Leave a comment