64 comments Add a comment
Why do people eat garlic? There's nothing worse than sitting next to a garlic eater, particularly if you can't stand the smell of the stuff. It's one of those things that people eat and they just reek of it for days afterwards and they don't seem to even realise. Can someone please tell me why people eat garlic though because I don't understand. Is it because they...
like smelling like a sewer?
don't like people sitting next to them on public transport?
use their breath to ward off evil spirits?
use their breath as an early warning device when shopping?
think it makes them smell nice?
believe it is good for them?
are antisocial?
have bad breath or B.O.and garlic masks the smell.
believe this is the new deodorant "the smell of garlic breath"
think it will ward off vampires?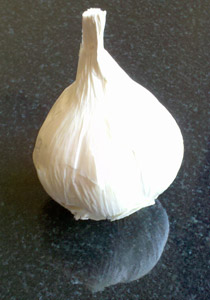 If someone said to you, "put this in your food and I guarantee that you will smell like a sewer for several days" would you do that? Nobody in their right mind would do such a thing but for some unknown reason garlic eaters do! Maybe they have read somewhere that garlic is "good for you" ie: some scientist somewhere fed rats on it for years and extended their lifespan by a few seconds.
O.K so it may improve the taste of certain foods, but then so does salt but that doesn't make you stink for days. Do garlic eaters ever have a bath or shower, use deodorant or soap, etc? I would assume that like most people they have a shower so that they don't smell, so why do they then go and eat garlic and stink? Self imposed B.O. is what I call it!
All non garlic eaters should cease to wash, bathe, change their socks etc then we could inflict our smell on them and see how they like it. It only takes one garlic eater to get on the bus for the whole vehicle to stink. There is nothing worse than a garlic eater who sits behind me on the bus and spends the journey breathing down my neck, ughhhh! I think anyone smelling of garlic should be refused any form of public transport. I don't want you on my bus. Don't eat garlic!!!
By: Jacky
Leave a comment