75 comments Add a comment
Fireworks are a menace. Full stop. Loud, irritating and worthless in every respect. Have fireworks become the new ego extension for the lower classes? 'Look how big mine is' and 'See how loud that was'...
I fully understand that children, like their sheep equivalents, like to gawk blankly at a sky full of colour, but animals do not.
Out in force with your bangers and rockets...
I also understand that throughout the winter months of November and December, the 'slower' of you will be out in force with your bangers and rockets and my small terrified dog will once again be subjected to 8 weeks of terror and discomfort. Too scared to go outside to relieve herself, she will simply sit, and shake, and shake some more while the children go 'whoopee' at their low paid fathers pitiful attempts to impress his dysfunctional family in their council paid-for shell suits.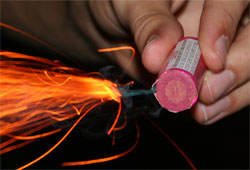 Of course, the worst offenders are the 'Summer Fireworks' that local pubs and outdoor parties think are a great incentive to bring the family into their plastic paradise.
Why, at 10.45pm do I have to sit with Sky News on full blast so that my dog doesn't have a heart attack? Why? So that Wayne and Sharon can take little Chelsea Beckham to see the fireworks, propped up by a can of Special Brew and let off in some disgusting franchised pub 'garden/rear car park/vandals playground/little Chelsea's place of conception'.
Go to an event, see them done properly and presented with lasers and music, fine, but not next door to me. I'd be in favour of them being made illegal, or at the very least banned most of the year!
By: IK
Leave a comment