47 comments Add a comment
I have just spent 8 hours on the phone to TalkTalk, and have probably spoken to more than 15 people, each contradicting what the last said, directing me to numbers which weren't what they were supposed to be, and departments which had no connection whatsoever to the 'options' had said they were. As a previous message said - it was mostly people passing me on to somebody who 'might' be able to help me, and without exception the first sentence was, 'oh you've come through to the wrong department'.
In the process of repeating my details and my story over and over again, ploughing through 'options' which took me round in circles', and receiving nothing but complete nonsense and conflicting information every step of the way (you get my drift). I have been reduced to tears and driven beyond endurance to yelling hysterically at people who just repeated the mantra 'you need to go back and speak to BT', when BT had said, 'you need to go back and speak to TalkTalk'. There was obviously no communication between departments and nobody cared what anyone else had said, even when it was a complete contradiction to what they themselves were saying.
like banging one's head against a particularly hard and impenetrable brick wall...
In some cases they talked to me as if I was a moron, in other cases I could barely understand a word they were saying. Some of them were so loud that I had to hold the phone 6 inches away from my ear! All in all, it was like banging one's head against a particularly hard and impenetrable brick wall. I have compiled a list of notes and numbers and useless 'advice' covering 5 sheets of A4 paper, have crawled on the floor describing my modem 3 times, and know the complete works of Roger McGough inside out! Half way through this message I got 'timed out', and had to log in again.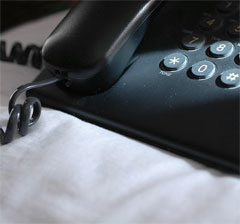 We have had very good value with TalkTalk's phone service, which we were very happy with. It was when we agreed to the Broadband set up that the trouble started and I have to say that BT have not been much help either. I have had three lots of conflicting information, and at the last try, the department I was supposed to be directed to (third time of being sent somewhere completely wrong), was 'having router problems, and could I try again tomorrow'.
We will be obliged to return to BT for our line rental, (when the TalkTalk package is much better) in order to get the line back so that we can regain our previous email address. TalkTalk said this would be possible, but omitted to inform us that our service, both phone and Internet would be abruptly cut off. No instructions as to how to reinstate them, no welcome pack or CD. Nothing was said about the incredibly confusing amount of reconfiguration we would have to do to redirect everything through IE and although one 'technician' helped me to access the Internet, as far as setting up the email, he said 'you'll have to do it yourself'. Only 24 different panels to go through.
WHY should I have to do it myself? Nothing had been said about this. Apparently the CD was supposed to take care of it for us semi-computer-literates, (I'll believe it when I see it), but we didn't get ours. No warning that once they had 'taken over' our BT line, it would cost ?241 for us to reinstate the line, and have TalkTalk take it over again. A lady at BT took great pleasure in informing me of this. So should we change our minds during the first 30 days, as it says we can in the contract - yes they will uninstall the broadband, but we will than be left in limbo until (and if) we can get our BT line back.
When we were sold the broadband package, we were told it would all be seamless and trouble free. Since we had been happy with the phone service, we believed them. Har Har. (Oh, oops, just got 'timed out' again, and had to sign in again - and that bloody smiley sign, and the tongue sticking out, is driving me mad already).
Trying the broadband while we are waiting to cancel the whole thing, I find that apart from being repeatedly 'timed out', I can't access a long and important list of bookmarked sites, sometimes I can access my email, sometimes it comes in alphabetical order, going back to March 2007, so I have to scroll through 700 plus emails trying to spot the ones that came in most recently. That in itself is enough to drive me nuts, never mind the letters forming the 'smiley' and the 'tongue out' when I feel far from in a joking mood. I don't want to explore further, afraid of what I might find, or rather NOT find.
As we were given no prior warning of the reconfiguration we would have to do, when our service was cut off I didn't know what was happening, (it was more than a week before our supposed 'go live' date). So I spent a further 2 hours at 5p a minute, on the phone to AOL trying, vainly of course to reconfigure our settings, until they let slip the tiny nugget of information that said, if we didn't have a BT line, we could no longer get ANY service from AOL. But TalkTalk have bought out AOL haven't they? Some said, no, we're separate. Others said yes.
The 'lady' at BT said no, TalkTalk HAVEN'T been collecting the line rental on your behalf from us during your time with them (the phone service which we've had for 18 months). It's nothing to do with us, its the responsibility of Openreach, but Openreach won't speak to customers, they'll only speak to companies. Yet their website is plastered with BT logos. I asked her "if we haven't had a BT line all this time, how come we've been able to get AOL?". She said she didn't know and that I'd have to ask them. Obviously couldn't care less, but does anybody?
I've wasted a day I can't afford to waste, have a headache, and still have resolved nothing. And they don't give a damn. I'm guessing tomorrow will be the same, except as it's a Sunday they'll all be going home early. Just got 'timed out' again, I'm going to give up now...
By: Lynseybluegirl
Leave a comment