49 comments Add a comment
Well, I had hoped that Boris was going to dial the nanny state down a bit, but since China unleashed Covid 19 onto the world it has gone into overdrive.
I was a teenager in the late 60s when the Asian flu was around. It was a much worse illness than Covid 19, but back then we were trusted to mostly look after ourselves and took the risks of life in our stride. I don't remember hearing much about the Asian flu, it was on the news I suppose, but I never heard personally of anyone dying from it. If anyone had suggested a lockdown they would have been laughed at. Apart from ruining the economy people would have seen it as a gross infringement of their civil liberties and would never have stood for it.
Nowadays we have become so risk averse that we have put up with all the restrictions. I do wonder sometimes how the human race would ever have got started if people had always been like this. The first humans would have been too scared to leave their nice comfy caves to go out and hunt for something to eat, so would have starved to death.
We were told for ages that masks were not really any good except to help frontline medical staff, but now we must wear them when we go to the shops. I suspect that the novelty of actually being allowed to go shopping again will soon wear off when shoppers realise how uncomfortable it is in a mask, particularly if you wear glasses which keep steaming up. Then there are the queues to get into some shops, that's not going to be popular in the winter; and the stupid one way systems in some shops. I went into my local Superdrug last week. There used to be breaks in the fixtures running the length of the shop so it was possible to go from one aisle to another halfway down. These have been blocked off so now it's actually more difficult to avoid other customers. All of this of course won't help the economic recovery one bit if it puts people off going shopping.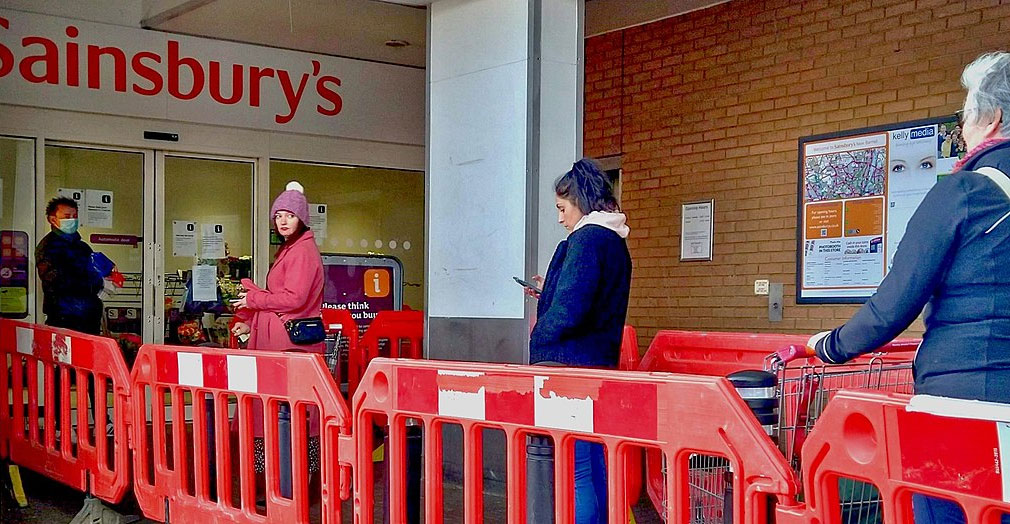 Another thing that won't help the recovery is the to-ing a fro-ing about where we can go on holiday. Retired people may be able to cope with two weeks quarantine if it should be deemed necessary when they get home, but it would be very awkward for many working people. Even the mighty British Airways is on it's knees, and this really isn't helping. We need to get back to normal, the old normal that is.
Then there are the numbers of people killed by this not really very serious illness. Apparently about 78% of people who've tested positive have had no symptoms at all, the other 22% include those who've only had mild symptoms. The numbers put out of "Covid related deaths" have up to now included patients who recovered but died of something else later, which has finally been admitted. Numbers of people dying over the last few weeks have actually fallen because large numbers of people killed by Covid 19 would have died a few weeks or months later anyway.
These figures of course encouraged people to stay at home during the lockdown, now too many are scared of going back to work because they think this deadly virus is waiting for them. Too many who have swallowed the hype about the virus have also turned hyper-vigilant, screeching about people daring to go to the beach, when in reality it's probably perfectly safe. The virus doesn't transmit easily in the open and the only beachgoers likely to get close to each other are children who don't pass it on readily. This is something the teachers' unions really need to get their heads around too! The education of a whole generation has been damaged far too much.
The lockdown will undoubtedly cause more deaths than it has prevented, it was done to "protect the NHS", yet in may areas the NHS was sat around twiddling its collective thumbs as the hospitals and surgeries were more or less closed to anyone who didn't have Corona virus. The Nightingale hospitals were barely used. Still, nobody could sue the NHS for catching Corona virus when attending an appointment! Many patients with serious illnesses who have missed vital appointments will die, as will many who were too scared to go to their doctor or were not allowed to make an appointment.
There will also be many deaths due to the economic crash, businesses will go bankrupt, jobs will be lost, people will lose their incomes and their homes, and all taxpayers will be squeezed to make up the difference between money going to the government and outgoing in benefits and services. Local councils will be in trouble too with falling income because of so many empty shops.
I'm really beginning to despair of this country and it's future! The more we are protected from all the normal risks of life the worse it gets.
By: Grumpyoldwoman
Leave a comment