58 comments Add a comment
Recently, an elderly lady that I have known for many years who cannot walk very far now and has a disabled parking badge was taken out by her carer and the carer parked her car within a disabled parking bay in a car park and displayed the blue disabled badge.
The elderly lady was escorted by her carer around the town centre in Blackpool in a wheelchair and the other walking aids were left in the car. When they arrived back at the car, they were shocked to see a Penalty charge Notice (PCN) for £60 due to parking illegally. When querying why a PCN was issued with the parking attendant he showed no sympathy for issuing it.
He didnt offer any advice on going to the office to appeal with the evidence either and so the matter was disputed immediately with the carer going to the council office to query what was going on.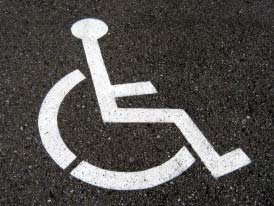 When the carer got to the office, the excuse the council gave was that the ink the details had been written on with had faded in the sunlight and due to being unreadable the disabled badge wasnt valid. Looking at the badge there was an outline of what the details were which anyone with reasonable sight would have been able to read as the faded ink left a stain on the surface.
Brainless Local Authorities Constantly Keep Penalising Our Outgoing Ladies for supporting one another and this council is now trying to pin the blame on two more innocent ladies treating them like criminals.
This is either a case of some over zealous parking attendant with nothing better to do than penalise disabled people was looking for opportunities to exercise his authority, or maybe another form of tax burden on society to help fill Labours coffers. Id go with the latter where it is just another excuse for the authorities to sponge money off innocent people. After all, the details were written on with ink used within the local Social Services office. It just so happens regular ink is likely to fade in sunlight so why use it?
By: Irene
Leave a comment